2014.03.04
JM 10th Anniversary Project: Odani Miyuki X Junie Moon collaboration dress sets are in the works!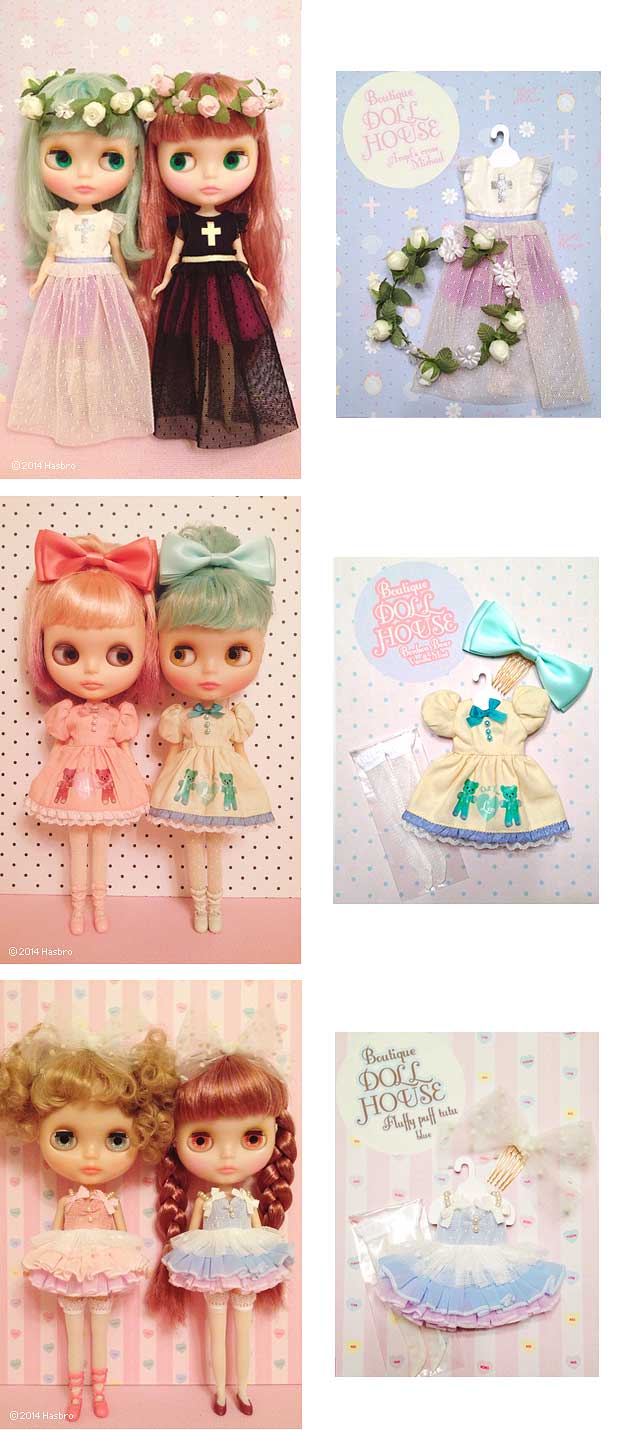 This December, the Junie Moon store will reach its 10th anniversary, and as a celebration for the many years of your patronage, doll clothes brand Dolly Wear will release 3 (three) original dress sets!

From blythe customs to dress and prop making, there isn't a Blythe fan in the world who has not heard of Ms. Odani Miyuki name.
Her talents have been praised highly by and has done work as an original Blythe artist at CWC, as well as working as a freelance designer on her own time.
As a Blythe fan, this is a great opportunity to acquire finely crafted dresses made by one of the most talented people from the Blythe community!


"Fluffy Puff Tutu"
A multi-layered chiffon and tulle micro tutu, the pearls and ribbons on the shoulder strings, and many other signature Odani Miyuki characteristics make this dress set a must have.
The frilled lace socks, dotted tulle ribbon, and the fluffy tutu together will create a cute ballerina styled outfit.

Set includes:
One-piece dress, head dress, socks
Release Date: April 2014
Sale Price: ¥6800 + taxes
Colorways: Pink/Blue

・・・・・・・・・・・・・・・・・・・・・・・・・・・・・・・・・・・・・・・・・・・・・・・・・・・・・・・・・・・・・・・・・・・・・・・・・・・・・・・・・・・・・・・・・・

"Bonbon Bear"
The puffed, round sleeves, wide skirt, and printed bears make this dress set a cute and fun take on a classic look.
The roundness of the sleeves were created by folding the cuffs inward, creating this dress's signature silhouette.
The dotted tulle over-knee socks and large satin ribbon head piece is the cherry on top of this vintage style.

Set includes:
One-piece dress, head dress, socks
Release Date: April 2014
Sale Price: ¥6300 + taxes
Colorways: Strawberry Strawberry/Vanilla Mint

・・・・・・・・・・・・・・・・・・・・・・・・・・・・・・・・・・・・・・・・・・・・・・・・・・・・・・・・・・・・・・・・・・・・・・・・・・・・・・・・・・・・・・・・・・

"Angel Cross"
Adorned with delicate laced sleeves, a long tulle skirt, and a flower crown, this dress set will make any Blythe look like an angel floating down from heaven.
The tricot and dotted tulle used in the skirt are extremely light weight materials, giving it a light, floating impression.
The cross printed at the chest is intended to not be too sweet, but simple and versatile.

Set includes:
One-piece dress, Head dress
Release Date: April 2014
Sale Price: ¥6300 + taxes
Colorways: White (Michael)/Black (Gabriel)

・・・・・・・・・・・・・・・・・・・・・・・・・・・・・・・・・・・・・・・・・・・・・・・・・・・・・・・・・・・・・・・・・・・・・・・・・・・・・・・・・・・・・・・・・・

●Odani Miyuki Profile (Original Blythe Artist for CWC)
Formed the creative unit "Alfort" with her friends, publishing a book on sweets called Alfort Yougashiten as well as working on CD jacket designs and writing in magazines.
She has had solo shows in both Japan and New York.
She is now working as a solo Blythe doll outfit designer and customizer.
She is the lead designer on the "Fashionista Nelly and Molly" line of CWC endorsed Blythe goods. She has taught workshops in Tokyo and Osaka on creating doll props. In March of 2012, she has collaborated with CWC to create "Margo Unique Girl."


These dress sets will be available at the Daikanyama Junie Moon store on March 11th (tue) at her solo exhibition show "Boutique DOLL HOUSE."
The JR Kyoto Isetan 3rd Floor Salon will hold these products for MI card holders only on March 14 (fri), 15 (sat).
Junie Moon Online Shop, Junie Moon Rakuten Shop, Shibuya Parco LeLe Junie Moon, Osaka Salon de Junie Moon will begin sale of this product by mid-April.