2016.05.13
Nostalgic yet fresh! JM Dolly Wear and renown creator *Mayrin* come together to create "Pretty Dress for Pretty Girl", a new collab dress set!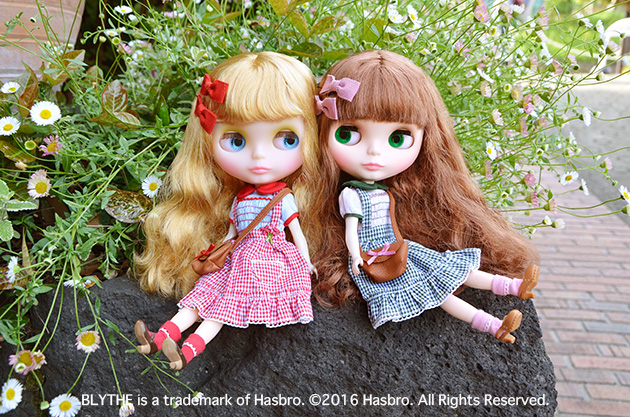 *Mayrin* and Junie Moon Dolly Wear bring to you a brand new collaboration dress set!
This cute dress is decorated with an elaborate shirring decoration with an over-sized collar.
It also comes with two ribbon hair accessories that can be used in any way.
The pochette that comes with the set is useful for carrying any small accessories or trinkets.

Junie Moon Dolly Wear "Pretty Dress For Pretty Girl"
22cm Doll size (Neo)
2 Types/ Red, Green
Set Includes: dress, 2x head accessories, pochette, socks
Package Materials: card paper, PP bag
*Does not include doll or doll shoes.

Price: ¥7,800 + tax
Release date: May 17th (Fri) advanced release at Daikanyama Junie Moon
All CWC affiliated stores will begin sale of this item late May.
All stores stocking Blythe products will receive this item in the beginning of June.

A comment from the creator:
Dress up cute with this shirring and frill filled skirt and your favorite pochette!
This set is sure to make you want to go out with your best friends and have a fun time out!

*Mayrin*
After encountering Blythe during the Fall of 2006, I started to create doll clothes for fun. In 2010, I taught myself how to make 1/6 scale doll houses.
From my base of operations in Osaka, I have exhibited in Doll events within Japan and in Taiwan.
I also teach in Junie Moon Culture School's doll clothes workshops.