2021.12.20
CWC Exclusive Neo Blythe "Song of London Mary" is our first doll of 2022!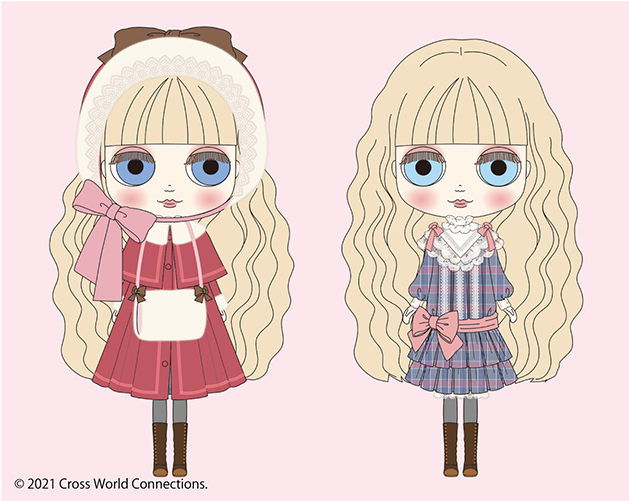 "Song of London Mary", is the first Blythe doll creatively produced by Cross World Connections (CWC) and manufactured by Good Smile Company. This will be the first of the GSC and CWC releases and the first doll of 2022!
Stay tuned for these exciting developments in Blythe collection culture!

Story
I live in a lovely house with my parents, 2 brothers and 3 sisters.
There are servants who live with us too and a governess who is very strict with our studies. I study hard because I want to grow up to be a writer.
The Victorian age is complicated. I want to tell that tale.

"Song of London Mary" is inspired by a girl living in London during the Victorian age. She wears a dress and a coat with coordinating hat and muff. The dress is made of checked shantung fabric in an A- line shape that flows gently to the hem. It is accented with tow layers of box pleats, ribbons and a lace collar.

The flared coat with cap is decorated with braids and fur. The bonnet - type hat has a ribbon under the chin and a fur muff worn around the neck which was a popular item for women in the Victorian era. She wears knee length bloomers with high socks and bicolor medium boots.

The face type is Radiance Evolution.
( * This is a new mold based off Radiance Renewal.)
The face color is Snow.
She has long blonde hair with a perm and short bangs.
Her makeup is pink-beige eye shadow, pink lips, and salmon pink blush.
Her eyelids are pink and beige (molded plastic color) with special brown eyelashes and textured edge.
All sets of eye colors are special. Light blue (front), blue (right), brown (right, pupil is brown), and light pink (left).

This product is for ages 15 and up.
This is an illustration drawing, the final product may differ from this.

Release Date: February 2022
Price: 25,500 JPY
* This doll will be sold at Junie Moon under direct management of CWC.

Final images will be released in late January 2022.

------
News about dolls release by Good Smile Company

There will be no major changes to the doll itself.
The face type Radiance Evolution uses a new mold based on Radiance Renewal.
The body uses the same mold as previous Blythe dolls. There is no strange to the structure of the doll. The large age is over 15 years old. There are some small parts, so please handle with caution for small children.