2022.01.25
Welcome CWC Exclusive Neo Blythe "Song of London Mary"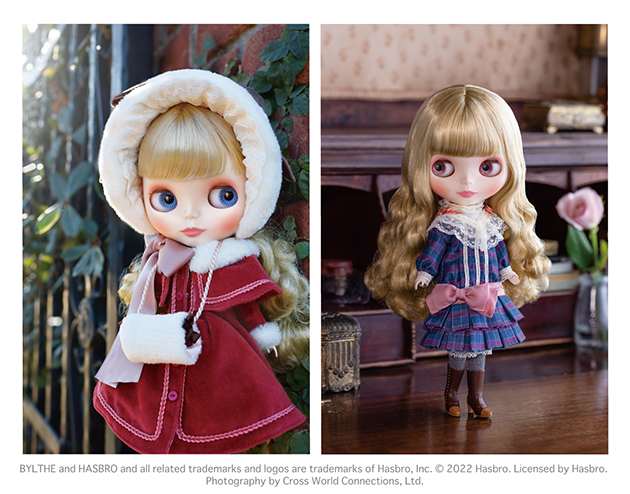 I live in the Victorian era London.
I am very close to my family and all my sisters love fashion!
It is fun to go out dressed up in finery like porcelain dolls.
My dream is be to a novelist when I grow up, so I study hard.
Let's make a wish for my novel to be published some day!

"Song of London Mary" loves the classic fashion of the Victorian era.
She wears a dress that is dark blue, light blue and burgundy checkered fabric with coordinating off-white lace and smoky pink ribbons for a nuanced color scheme.
The lacy false collar, low waist skit with two layers of box pleats, and large pink ribbon and more.
The design is classic taste with refined style.

The velvet coat, hat and muff can be worn when going out on the town.
The coat is dark pink flared silhouette with an integrated cape and coat.
It is trimmed with a braid and decorated with fur on the collar and cuffs.

The hat is a matching design to the coat. It is a hood type with a short brim that softly wraps the face with fur and lace.
The top is decorated with brown velvet ribbon and a wide dark pin satin ribbon is tied around the head.
She has a corded muff, grey knee-high socks. mustard brown boots, and long bloomers.

The face type is Radiance Evolution (New Mold based on Radiance Renewal)
Face color is snow.
Hair color is a popular blonde with bangs and a long perm.
She wears Pink beige eyeshadow, pink lips, salmon pink cheeks, and has Pink beige molded plastic eyelids.
She has special brown eyelashes.
Her eye colors are: light blue front, blue right, brown front, and light pink left.

Face Type: Radiance Evolution
Face Color: Snow
Makeup: Eye shadow: pink beige, lips: pink, blush: salmon pink.
Eye Color: Light blue (front), blue (right), brown (front), light pink (left). *all special eye colors
Eyelids: Pink beige (molded color)
Eyelashes: Special brown eyelashes with jagged cut tips.
Hair color: Blonde
Set includes: doll, hat, coat, false collar, dress, muff, drawers, socks, shoes, stand (approx. 13cm high)

* The target age group for this product is 15 years old.
*Specifications may differ from final product.

Release Date: February 25, 2022
Price: 25,500 JPY