2022.09.27
We are pleased to announce the final specifications for the TOP SHOP EX. Neo Blythe "Lovely Katherine's Corner".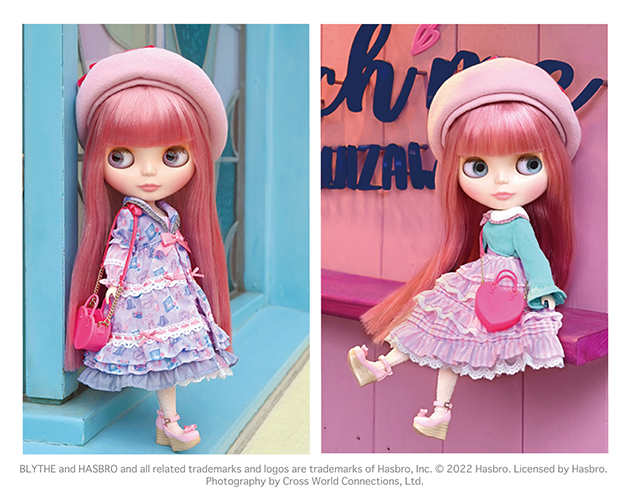 Everyone who receives a present from Katherine will be happy.
She always gives gifts to everyone, but
But the best gift of all is Katherine's lovely smile, kindness, and warm hugs.
Everyone loves Katherine so much!

Lovely Katherine's Corner" fashion is coordinated with lovely items.
The clothes are a pink and purple striped long-sleeved dress with ruffles, lace, pin tucks, and shirring.
Sailor collar over-dress and a mint green cardigan are set to make the outfit more wearable♪

The over dress is printed with a pattern of gifts for friends.
The top has a clean sailor collar, and the skirt is open from the center to reveal the underdress.
It is decorated with lots of ruffles, lace and ribbons★.
The base is a translucent light gray, which overlaps with the pink of the under-dress, creating a nuanced coloring.

The cardigan is a short bolero type with a white fur collar. The sleeves gently extend to the wrists.

Cute fashion accessories were also selected.
The pink beret is decorated with bunny ears on the back and ribbons and colorful pearl beads on the front of the top.
The earrings are gold-colored and ribbon-shaped, and the heart-shaped bag has a short handle and shoulder strap.
accented with gold chains and small ribbons.
Panniers to shape the silhouette of the skirt, lace tights, and strappy shoes with bows on the toes.
All of these items are the stuff of obsession!

The face type is Radiance Evolution and the face color is cream.
Hair is long and straight with bangs, pink (new color).
Eyeshadow and eyelids (molded color) are brown, and eyelashes are a special brown with jagged tips. Blush and lips are baby pink.
The eye colors are all special colors: blue-green (front), light blue (right), brown (front), and light purple (left).
Nails are also baby pink.

Face Type:Radiance Evolution 
Face color:Cream
Eyeshadow:Brown, Lip: Baby pink, Blush: Baby pink
Eye Color」Blue Green (front), Light Blue (right), Brown (front), Light Purple (left) *All special colors
Eyelid:Brown(Molding color)
Eyelashes:Special-specification brown (jagged type)
Hair color:Pink *New color
Piercing:Yes (ribbon type)
Manicure:Baby pink
Doll, dress (pink and gray), cardigan, hat, earrings, bag, petticoat, shorts, tights, shoes, stand (foot support type)

*This product is intended for ages 15 and up.
*Specifications may vary from product to product.

Release date: October 28, 2022 (Friday)
Suggested retail price: 25,500 yen (including tax)