2013.04.04
Design illustration for Neo Blythe "Sadie Sprinkle"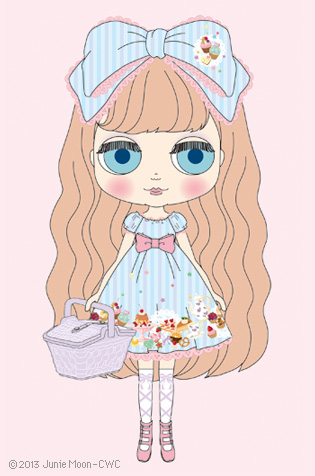 My name is Sadie Sprinkle, I love to make cupcakes!
My favorite thing is to decorate my cupcakes cutely with sprinkles.
My cupcakes cheer up any special event.
My sprinkles have a special power to make everyone happy!

Her sweet full skirt dress is covered with cute cupcake illustrations.
She wears a fancy headband with big hair bow on top.
Her tall socks have sweet ribbon patterns and her strappy shoes complete her look!

She has a new style of bangs with long loose curls to give a feminine and sweet look.
Her hair color is ash pink. She has special blue green eyes set to the right.
She wears light purple eyeshadow and baby pink cheeks and lips.
Her face type is Radience with fair skin.
She has a cute light blue stand!

* Please note design image may differ from the final product.

Release Date: May 2013
Price: 14,490 JPY