2013.06.27
Neo Blythe Penny Precious is our fashionable, sweet girl!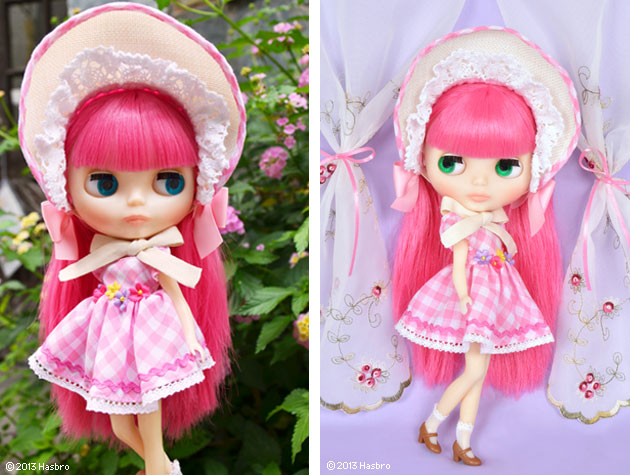 Penny Precious cherishes her lucky penny.
She is a popular childhood movie star and brings back sweet and nostalgic memories of black and white films.

She wears a pink and white gingham check dress with rickrack around the hem and daisies at the waist.
The skirt has tons of lace.
To keep her cool she has a large bonnet with a gingham check border.
Her full skirt is frilly and girly.
She has cute white socks like a little girl with brown mary-jane shoes.

She has straight, raspberry pink hair with translucent skin.
Her makeup was made to give her a childish, sweet look.
She wears beige lips, and blush with salmon pink eyeshadow.
She has light blue eye chips facing forward.
Her face type is radiance.

Face Mold: Radiance
Skin: Cream (translucent)
Makeup: beige lips, and blush with salmon pink eyeshadow.
Eye Colors: Light Blue (special color), blue, pink, green
Hair Color: Raspberry Pink
Set Includes: Dress, bonnet, socks, shoes, underpants, and stand.

Release Date: July 19, 2013
Price: 14,490 JPY

Junie Moon International online shopping will open preorders for this doll from July 12th at 10am Japan time. Check the Junie Moon international website for more information.
www.juniemoonshop.com