2013.12.12
Enjoy the friendly skies with Neo Blythe "Goody Girl Go Go"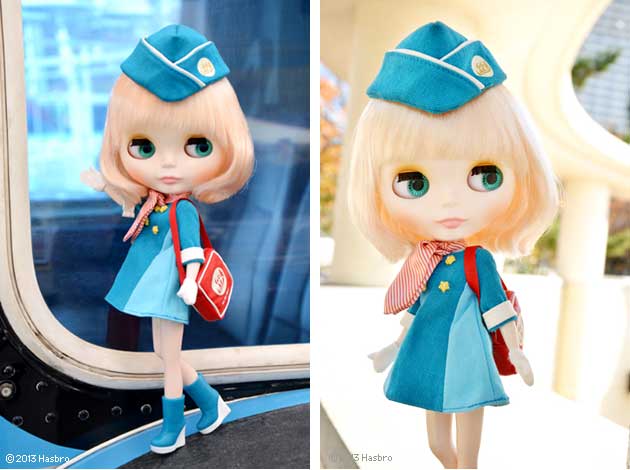 Our cheerful flight attendant "Miss Goody Girl" is here to help you on Go-Go airlines.
She'll make your flight from London to Kona a smooth and easy one.
Let her take care of you!

Go-Go Airlines uses light blue to reflect the image of the sky.
Her hat, dress and boots are reflect the friendly color.
Her uniform is a clean A-line dress with contrasting light blue panels on the sides.
She has white cuffs on the dress that adds to her smart look.
There are four cute star buttons on the chest that gives it a total cute and retro feel.

She has a sweet white and red striped scarf that can be tied in a variety of ways to give different expressions.
Her cap and red flight bag has the logo for Go-Go airlines.

She has a blonde, short, soft bob hairstyle.
She has natural brown eyeshadow, and salmon pink lips and cheeks.
She has two special eye colors:  light blue (front) and light green (right).
She has Radiance + face mold.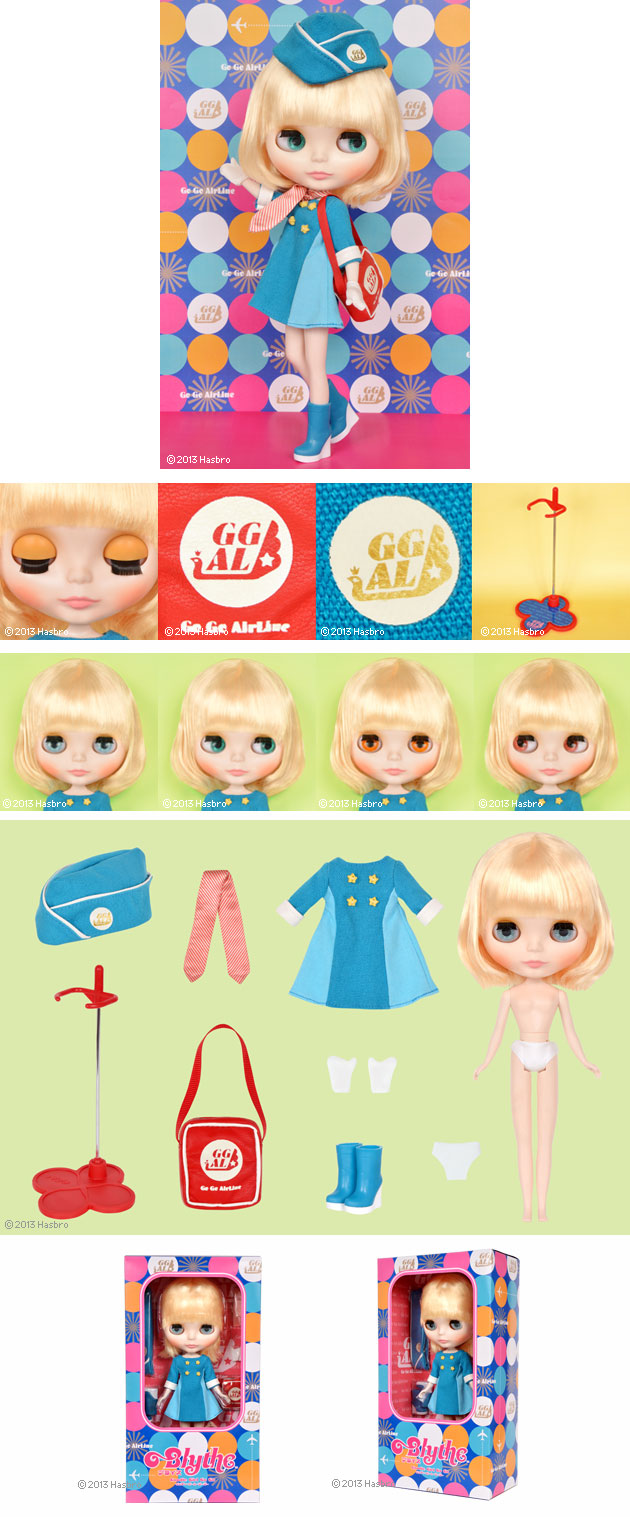 Face Type: Radiance +
Skin Type: Fair
Make-up: Brown Eyeshadow, Salmon Pink lip and cheek.
Eye Color: Pink, Light blue, (special), Light green (special), pink
Hair Color: Soft Blonde

Set Includes: Doll, dress, hat, scarf, bag, gloves, boots, and stand.

Release Date: January 17, 2014
Price: 14,490 JPY

Please check the Junie Moon international online shopping blog for more information about how to preorder this doll. www.juniemoonshop.com