2014.07.03
Welcome the Middie Blythe who lives in the forest with the bears " Oski tebyA lyublyU"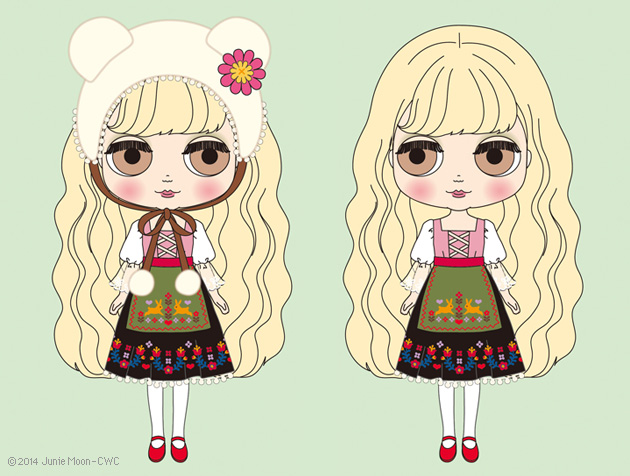 There's many tales of the beautiful girl who lives in the forest with the bears.
If you go to the forest you can meet the girl and the tales are true!
She lives with these creatures and she plays with the good natured bears.
It would be very fun to live in the forest with them!

She is friends with Neo Blythe "Misha tebyA lyublyU" and Petite Blythe "Suri Oski tebyA lyublyU".

Oski looks like she stepped out of a Nordic fairytale in her sweet folk costume.
Her skirt has sweet folk art inspired flower prints and the bodice of her dress laces up with white puff sleeves.
Her little apron has bunny prints and the total look is complete with her bear hat.
She wears red mary jane shoes with white tights.

She has long blonde, loosely permed hair with bangs.
She has green eyeshadow with pink lips and blush.
Her eyes are light brown.
Her face is natural color.

* Please note design image may differ from the final product.

Release Date: August 2014
Price: 9,800 JPY 
★★★★★★★★★★★★★★★★★★★★★★★★★★★★★★★★★★★★★★★★★★
ブライスモバイル会員募集中!
ブライスのドール情報がいち早く分かって、モバイル限定の企画を開催したり、楽しいコンテンツが取り放題!
スマートフォンをご利用の方はぜひ、チェックしてみてくださいね!
▶ ドコモスマホサイト http://and-sp.blythemobile.com/
▶ auマホサイト http://and-au.blythemobile.com/
公式モバイルサイトから、アニバーサリードールオリジナルスマホケースノ受注発売開始!
スマホケースを買うと、お揃いの壁紙がもらえる特典付きの限定企画です。
ぜひ、この機会にスマホケースを変えてみてくださいね。
対応機種:全50機種