2015.03.02
CWC Books' newest photo book, OUIOUI Fujimoto Aya's Blythe Cinema Style will be published from Graphic-sha.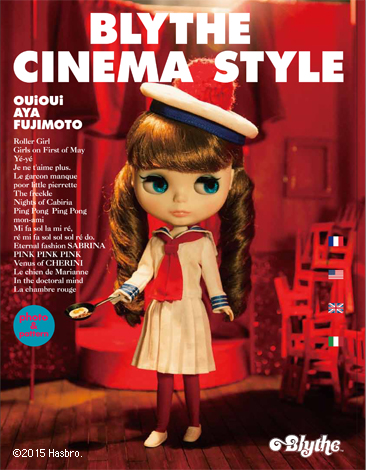 Taking inspiration from the heroines from classic 60's movies, Cinema Style will transform Blythe with it's catalog of completed looks.
Follow along with the photos to begin creating clothes, doing hair and makeup, and even making small accessories with the recipes featured in this book. Includes pattern sheets.

This is a book for Blythe creators who are also classic cinema lovers.
Look at photos inspired from the silver screen while creating clothes and hats from an easy to follow blue print. Learn how to use techniques, like the masking tape make up method, that are easy to use and immediately applicable. Look, create, and have fun!

Blythe Cinema Style
Author: OUIOUI Fujimoto Aya
Price: ¥1,800+tax
Release Date: February 2015
Publication: CWC Books
Publisher: Graphic-sha Publishing Co., Ltd.
Size: A4 Modified
Page number: 136 pages

Buy the book now at www.juniemoonshop.com http://www.juniemoonshop.com


OUIOUI Fujimoto Aya Profile:
After a career as a designer at a leading hat maker brand, Aya continued work freelance for concerts, stage play costumes, and fashion shows.
As a doll clothes maker, she creates small hats and clothes for Blythe as OUIOUI.

Come over to the below Junie Moon affiliated stores to see the world of Blythe Cinema Style in person!
Daikanyama Junie Moon/January 27 (tue) ~ February 15 (sun)
http://www.juniemoon.jp/
Osaka Salon de Junie Moon/February 21 (sat) ~ March 22 (sun)
http://sjm.salondejuniemoon.com/
Interview!
Question 1:
Your book "Cinema Style" seems to be a very conceptual fashion book. What are your main influences?

Answer 1:
Many of my influences come from the movies I watched when I was 10 to 20 years old.
Among those movies the ones from the 60's and 70's made a very big impact on me.

Question 2:
How do you do your research about different actresses?

Answer 2:
watched and re-watched their movies and looked through their photo collections in order to really capture the actresses' essence.
Cinema Style isn't just about the photosbut is also a means of communication with the reader,so that they can try their hand at the make up and fashion that is in the book.
I want my readers to be able to participate and play with out having to resort to complicated techniques.
The clothes are designed to be simple and versatile,and the masking tape method was created so that there wouldn't be too many problems with applying make up.

Question 3:
Your brand name is OUIOUI.
Can you tells us a bit about the influence of France and French films on your work?

Answer 3:
all the genres in French cinema, my favorite are musicals.
The beautiful colors, cinematography,not to mention the melodies that the beautful actresses dance to and the fashions they are in make me feel so happy.
This happiness really motivates me to create new pieces.

Question 4: What is your favorite French New Wave movie?
Answer  4: I really enjoy the movies made by Godard.
There are three movies that he made that has had a direct influence in some of the photos in Cinema Style.
The film I most adore by him is A Woman Is a Woman. Anna Karina's beauty and coquettishness is so bright in this film,that even though Godard is known for his tragedies, I can still feel surrounded by joy through her.

Question 5:
Please describe your brand style in 3 words.
Answer1:  5 
Happiness, Smiles, and Love

Question 6:
How does the influence of film reflect in Blythe? Do you see her as an actress or muse?
Answer1: 6 
All of the inspiration I gained from movies I pour into Blythe's fashion, hair, and make up.
Blythe is both a muse and an actress to me.
When I dress her in my newly created dress or hat and transforms to a new persona,
she is my actress. When I get to meet new people through Blythe and encounter new forms of happiness and joy, she is my muse.