2015.02.02
This February, a Blythe destined to bring in a sensational new wave will be released! These are the final specifications of the CWC Limited Edition Neo Blythe "Hatsune Miku Meets Blythe -Eclectic Super Idol-".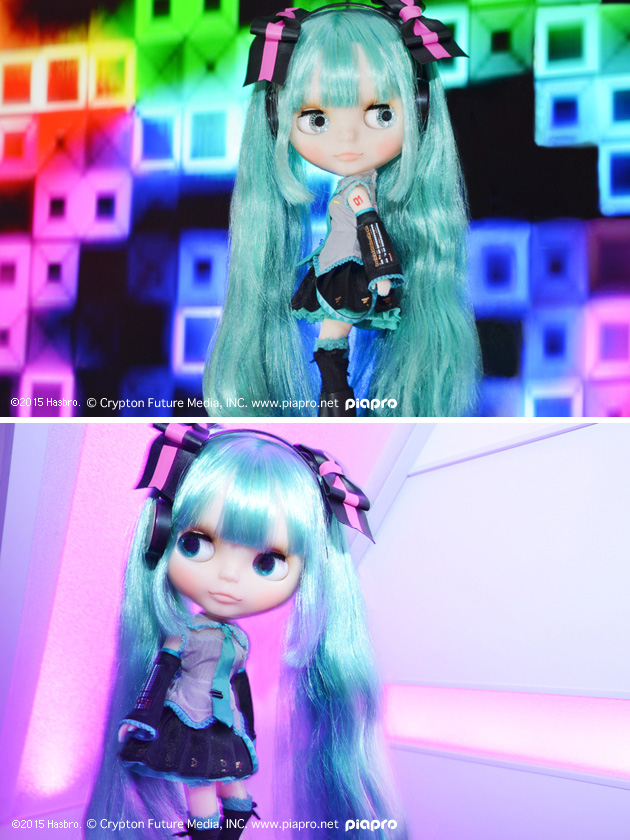 Virtual Idol and Fashion Doll, both world class icons, merged into one!
The Hatsune Miku x Blythe collaboration has come to a head!
The characteristics and charm points of both come together to create a truly adorable Blythe.

"Hatsune Miku Meets Blythe -Eclectic Super Idol-" takes the characteristics of Blythe and creates a pop and cute girl!

Her top is a no sleeve shirt made with a beautiful translucent and shimmering organdy with a neck tie.
The collars and upper chest area are arranged to be see through with green lace.
Her bottoms are a green tulle gathered under skirt with a black satin pleated skirt layered on top.
Her arm covers are made with see through black organdy.Her shirt, skirt, and arm cover all have the signature Hatsune Miku detailing printed on the surface.

Her head phones have been specifically created for this doll.
As an original item, her pink and black striped ribbon that adorn her twin tails along with her head phones truly bring the "Blythe"-ness out.
She also wears black knee high socks and a newly made green soled black pair of boots.

Her face type is a cream colored Radiance plus that is translucent (glossy).
Her eye shadow and eye lids are light brown, her eye lashes are long and black, her cheek and lip are salmon pink.
Her mouth is slightly lined at the edges with brown to create a cute smile.

Her hair style is a twin tail with bangs with both sides cut straight at the bottom.
Her super long hair is a mixture of mint blue and light blue, with a dark green mesh towards the inside, which makes this the first three tone hair made!
Her pull ring is the Blythe logo and the number "01" which is one of Hatsune Miku's signature symbol markings on her upper arm.

Face type: Radiance+
Skin type: cream (translucent glossy)
Make up: eye shadow: light brown/lip:salmon pink/cheek:salmon pink
Eye color: green (front), light blue (with hologram) (right), light blue green (with highlights), blue (left) *All special colors
Hair color: light green x green mix color
Eye lid: light brown
Eye lashes: black (specially made)
Ear ring: none
Manicure: green
Set includes: doll, no-sleeve shirt, skirt, arm cover, head phone, hair ribbon, socks, boots, shorts, stand, color migration-preventative socks

Release Date: February 20th, 2015
Price: ¥20,000

* Junie Moon international online shopping will hold a special lottery for
this doll from February 4 to February 10. Please check www.juniemoonshop.com for details on February 3rd.