2015.07.31
CWC Exclusive Maimero collaboration Neo Blythe My Melody ♥ Blythe – Softly Cuddly You & Me –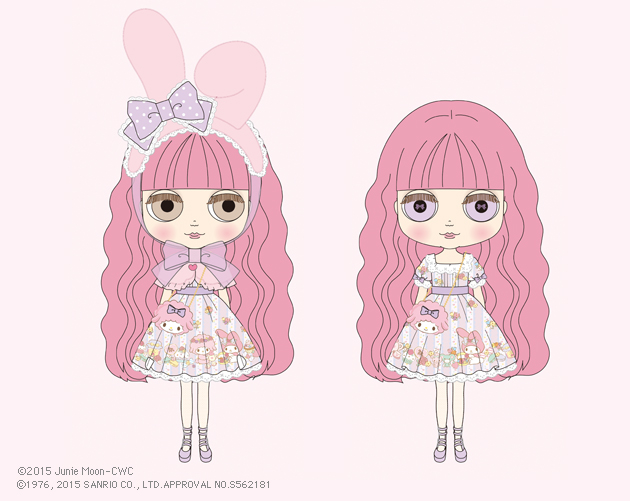 My Melody loves Blythe! Blythe loves My Melody! These two are the best of pals; hand in hand, they go out to adventure!
We'll always be friends, and that's a promise!

In order to keep with My Melody's soft and gentle world, we retained her cute,
fluffy ears and large ribbon and used pink as the theme color!
She wears a character printed dress, tippet, and head dress resembling My Melody's signature hood.

My Melody can be seen enjoying cupcakes, macaroons, candy, and a whole assortment of sweets as illustrations on the skirt of her dress.
Fur is used on the tippet and head dress, and each ribbon is a light purple.
Her pochette bag is shaped to look like My Sweet Piano's face!
She wears white tights and light purple strap shoes.

Her face is Radiance+, and her face color is a translucent cream.
Her hairstyle is lightly permed with bangs cut above the eyes, and her hair color is pink.
Her eyeshadow is brown, and her eyelashes are a special brown color.
All of her eye chips are specially made. Her front facing eyes are light purple, with My Melody's ribbon printed in them.
Her cheeks are pink, and
her lips are softly blurred.

Available: September 2015
Price: ¥26,500 (without tax)

*This product is sold exclusively within CWC affiliated event shops in Japan.
It will not be available through the Junie Moon International Online Shop.
Distribution throughout Blythe shops in Asia will be done through Hasbro.