2015.08.25
The focus of the party is the art, the life of the party is her! Neo Blythe Check It Out! final specifications!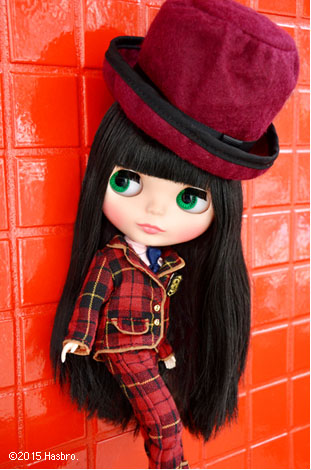 Check It Out! loves art! It's a thrill to observe them and to collect them, the gallery is a wonderful place!
Meeting artists and seeing new work is such a blast, I can't wait for the opening party!

Check It Out!'s party fashion is a pair of checkered pantsuits, a tight, blue necktie, a silk hat, and an overall masculine style.

Her jacket is made from a red, black, and yellow tartan fabric, with brown piping and an iconic golden "B" emblem embroidered on the breast.
The golden buttons are the cherry on top of this elegant look.
Her pants are cropped above her ankles, which are cuffed with brown piping to add a formal feel to it.
Her inner shirt is pink to add pop to her ink blue necktie.
Her hat is made with felt with a silk hat silhouette, with the edge of the brim has black piping and curled outward and adorned with a black ribbon.
Her black short boots are a decorated with golden grommets.

Her brunette hairstyle is strait and long with thinned bangs.
Her eye shadow is dark brown, and her cheeks and lips are rose pink.
Her right looking eyes are a special dark blue color.
Her face type is Radiance+, and her face color is natural.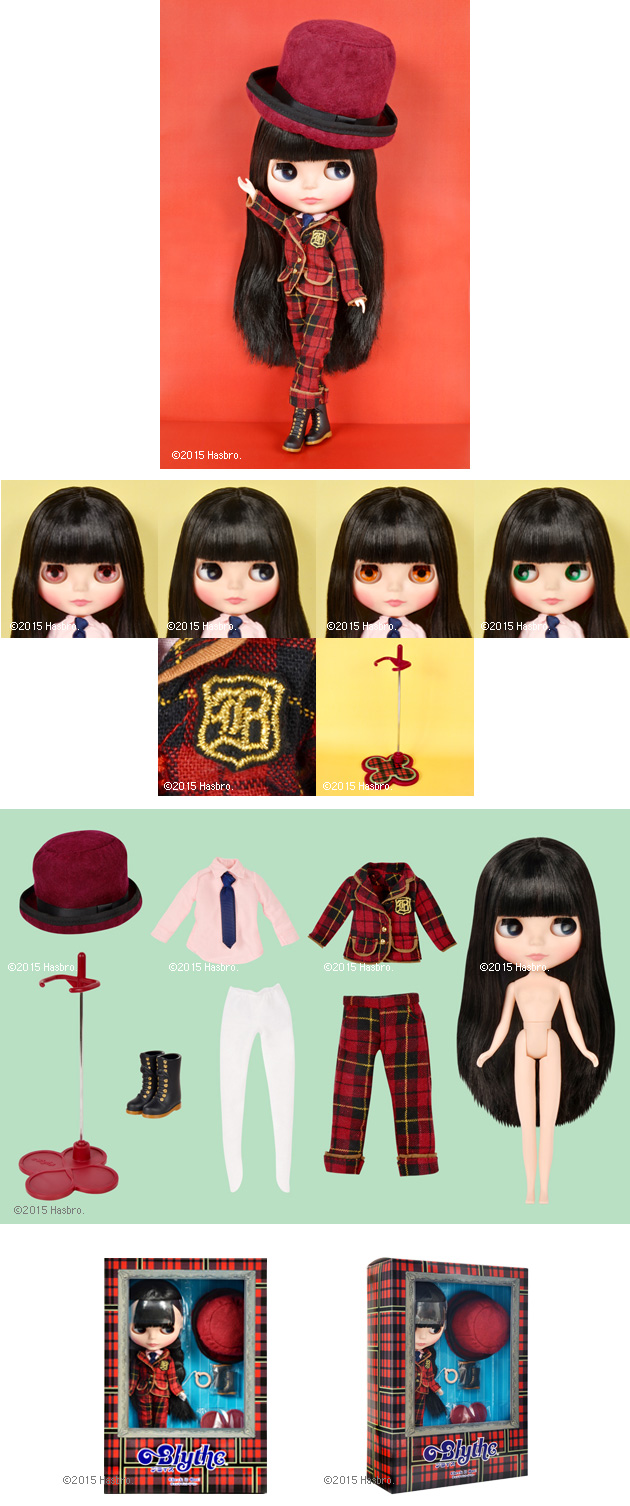 Face Type: Radiance+
Skin Type: Natural
Make up: Eyeshadow: Dark Brown/ Lips: Rose Pink/ Cheeks: Rose Pink
Eye Color: Pink (front), Dark Blue (right, special color), Orange (front), Green (left)
Hair Color: Black
Eyelashes: default
Ear rings: n/a
Manicure: n/a
Set Includes: Doll, shirt, jacket, pants, hat, tights, boots, stand

Release Date: September 11th, 2015 (fri)
Price: ¥16,800

Junie Moon Online Shop International https://www.juniemoonshop.com/