2017.02.15
he number one most popular item has new designs coming! Blythe Clasp Pouch in L and M Sizes!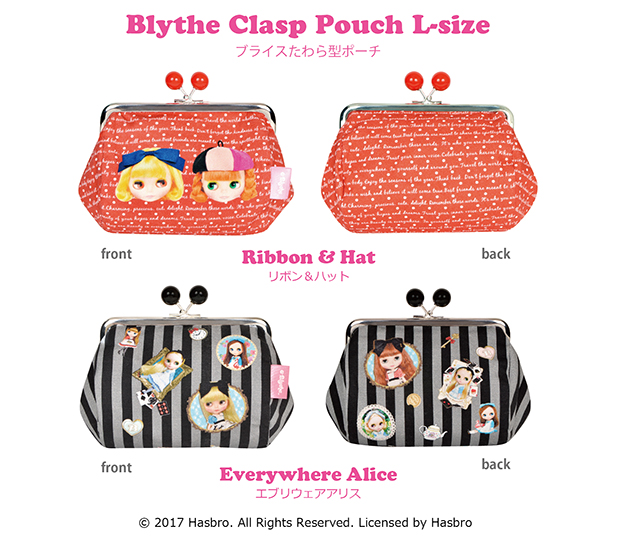 Looking through a pocket or coin holder in your wallet can be a chore, but with a wide mouthed clasp pouch, seeing what you need is really easy!
The large clasps and its cute round exterior are charming and fun to use, and its petite yet full holding size makes it easy to store things in while staying portable.
The M size has a round, classical silhouette, and the L is a wider, more robust size perfect for holding make up or other various grooming tools.
The designs are Ribbon and Hat, featuring two poppish Blythes in a ribbon and a hat, and Everywhere Alice, which has a variety of portraits of Alice on a chic grey and black background.
Liven up your day by using the M and L pouches in a set!
Blythe Clasp Pouch L-size
Two types: Ribbon and Hat, Everywhere Alice
Size: H11cm×W16cm×D9cm
Material: 100% cotton
Made in Japan
Available February 22nd, 2017 (wed)
Price: ¥2,800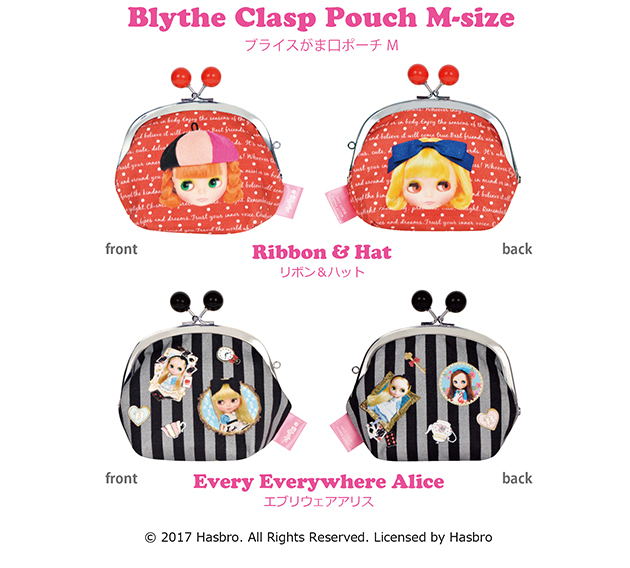 Blythe Clasp Pouch M-size
Two types: Ribbon and Hat, Everywhere Alice
Size: H12cm×W12cm×D6cm
Material: 100% cotton
Made in Japan

Available March 11th, 2017 (Sat)
Price: ¥2,000