2017.07.21
Available September 15th, CWC Exclusive 16th Anniversary Neo Blythe Garden of Joy Final Specifications!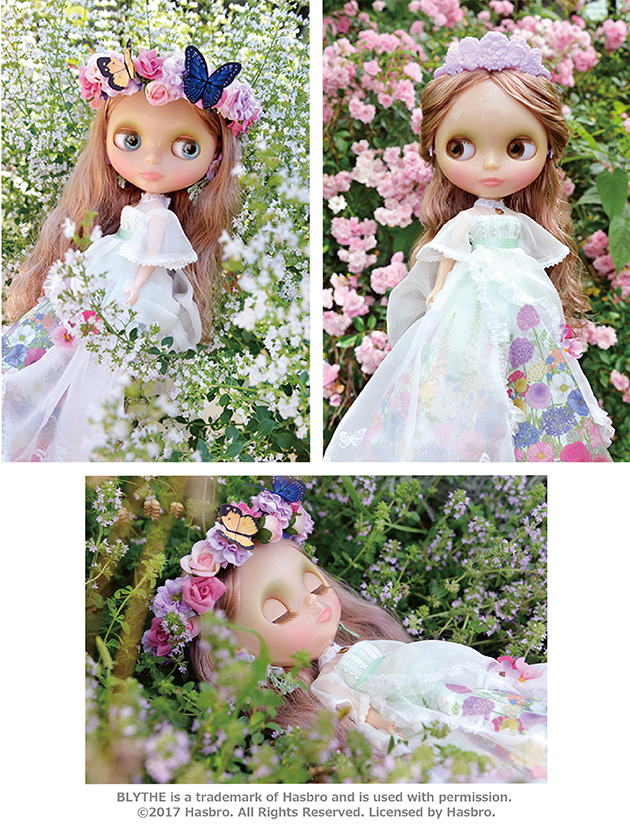 Garden of Joy will be blossoming into the sunlight for this coming 16th year anniversary!

Her name is Garden of Joy.
She wishes to bring love and happiness to everyone from her garden.
What's most important is beauty, gentleness, and hope.
We wish for everyone to be filled with these things and more the 16th Anniversary of the Neo Blythe.
Garden of Joy's fashion is drawn from the long flowing dresses and flower crown worn by goddesses in many different myths and fables.
The silhouette is a long dress with a long tail in the back, with a basic coloring of light green and white.
Her dress is made with layers of transparent fabrics such as satin and organdy, with the main skirt being printed with an assortment of different flowers.
Her frilly organdy overskirt gives her an ethereal presence.
The back of the dress is beautifully adorned with a short train and ribbons.
The tiara she wears is swarmed with beautiful butterflies and flowers, and her ear rings are a pair of adorable flowers and lace, and a pair of just ribbons.
Her shoes are a pair of simple pearl green pumps.
Her face type is Radiance Renew, and her face color is a translucent cream.
Her hair color is a mix of purple brown and blonde, permed lightly.
There are a few special specs in her make up!
Her eyeshadow uses two colors, brown and green, and her pink lips were colored with a puffy lipped mask.
Her cheeks are pink, her eyelids are light brown, and her special shaped eyelashes are light brown.
Her eye chips are light brown, light blue, light purple, and light green, all special colors.

Face Type: Radiance Renew (A new mold based on the previous Radiance model)
Face Color: Cream (translucent)
Make Up:Eyeshadow: Brown × Green, Rip: Pink (Plumped shape) / Cheek: Pink
Eye Color: Light green (front), light blue (right), light purple (front), light brown (left) * All special color
eyelid:Light brown (molded color)
Eye Lashes: light brown (Special specification)
Hair Color: Purplish brown×Blond Mix color
Ear Rings: flower,ribbon
Manicure:pink
Set Includes: Doll, dress, underskirt, head accessories (tiara, corolla), ear rings(flower,ribbon), shorts, shoes, stand (12cm tall)
Available September 15th, 2017 (Fri)
Retail Price: 27,700 JPY + tax
*The hair has been set for the image.
*Features are subject to change.