2017.09.28
New Jeffrey Fulvimari Mug Cup Designs!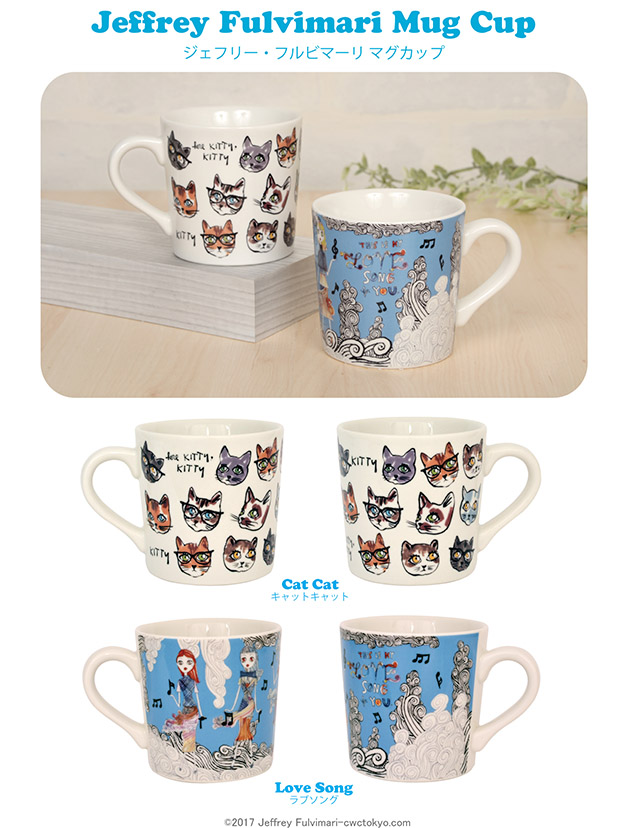 Using mugs as his canvas, Jeffrey Fulvimari illustrates.
Add color to your life with these new mugs by Jeffrey!
The base color of the cups are white, so the illustrations will be very visible.
The new designs this time are Cat Cat, a portrait of a human/feline couple, and Love Song, a snapshot of a young singer backdropped by a beautiful ocean scene.

Jeffrey Fulvimari Mug Cup
Types: Cat Cat, Love Song
Size: 8cm diameter x 8cm height
Material: Ceramic
Capacity: ~230cc
Made in Japan

Releases Oct. 18th (Wed) 2017 *Available first at the Jeffrey Fulvimari Exhibition at The Nihonbashi Mitsukoshi pop up shop.
Available Oct. 21st (Sat) at all CWC affiliated stores.
MSRP: 1,600 JPY + Tax
Junie Moon Online Shop International https://www.juniemoonshop.com/