2017.11.22
Images for CWC Produced Collaboration Neo Blythe Magical World of Sugar Sugar Rune Presents ~Chocolat Blythe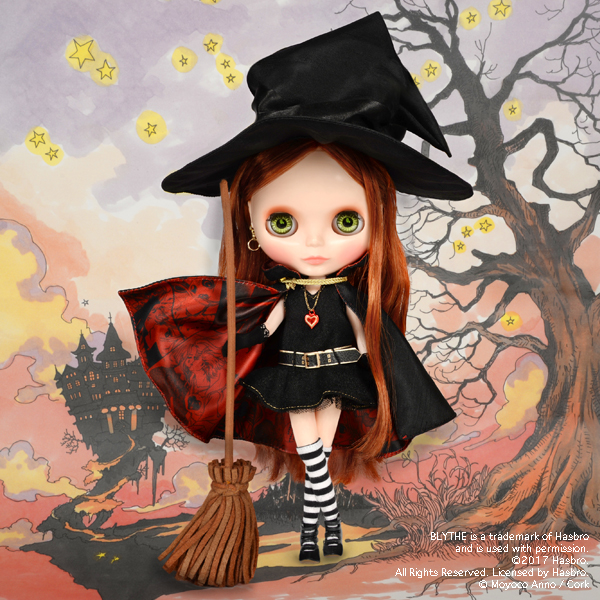 We have some good news for those of you patiently waiting for the release of Chocolat Blythe!
Sugar Sugar Rune is a comic by Moyoco Anno about magic, love, and fantasy.
Chocolat and Vanilla fight over the hearts of those in love to win the throne of the underworld.
Their friendships, romances and rivalries are full of twists and turns! This December, Blythe will be reborn as Chocolat Meilleure. Until then, take a look at these concept images!
Face Type: Radiance +
Face Color: Fair
Makeup: Brown/pink eyeshadow, salmon pink lip, salmon pink cheek
Eye Color: Pink (front, with heart prints), green (right), light green (front, with highlights and black bordering), light brown (left) *All special colors
Eyelid: Brown
Eyelash: Special black color
Hair Color: Reddish brown/brown mix
Earrings: Golden ring charms
Manicure: Pink
Set Includes: Doll, dress, cape, hat, pendant, earrings, gloves, socks, boots, shorts, broom, frog doll, shorts (bloomers and undershorts) and stand (16.5 cm)
Available:December 15th, 2017
MSRP: 25,600 JPY
★★★★★★★★★★★★★★★★★★★★★
You can check information on Sugar Sugar Run!
Sugar Sugar Run Official Website (https://sugar-rune.com)
Official Instagram (https://www.instagram.com/sugar2_rune/)
★★★★★★★★★★★★★★★★★★★★★