2018.05.29
August 2018, The New Anniversary Doll is Here! Illustrations for CWC Exclusive 17th Anniversary Neo Blythe Unicorn Maiden are here!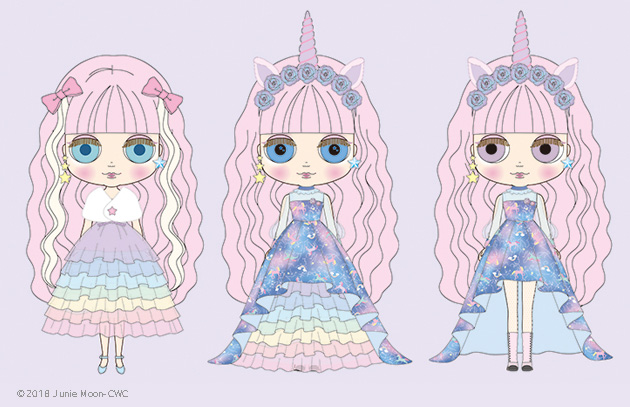 This year's Anniversary Doll's theme is "Unicorn".
Unicorns are known to heal any disease or wound and are drawn towards those with pure and innocent hearts.
As if physically embodying the unicorn, with a heart as pure as spring water and the forest air, this year's Anniversary Neo Blythe is trotting into view!
Unicorn Maiden is a proud and gentle guardian of the forest.
At first, you will notice her fantastical dress which depicts her miraculous abilities and her glorious horn headdress.
The dress can be worn three different ways.
The full dress has a frilly pastel rainbow front with an overdress printed with a myriad of constellations and unicorns. Blue roses line her headdress, which features a prominent horn and a pair of cute horse ears. The look is completed with a couple of asymmetrical star earrings and button boots.
If you want to change up her style to be more energetic, take away the rainbow frills to expose her legs! The overdress' short front and long fishtail silhouette goes perfectly with her fishnet tights and lace-up boots. Its sure to give her a girl ready to jump into the sky and run with the unicorns!]
Give her a girly look by coordinating her frilly items together with her underdress, ribbon belt and fur cape, strap shoes, and magical extensions!
Her face type is Radiance Renew, and her face color is a translucent cream.
Her hair color is a brand new purplish pink (that comes with a pair of white extensions). Her hair is long, slightly permed, and cut straight across the bangs.
Her make up is youthful and lovely. Her eyeshadow is pink, with the lower part of the eyehole highlighted pearl white, and a thin purplish pink eyeliner drawn along the edges of the eyes.
Her eyelids are a pearl pink, and her eyelashes are a special light brown.
The eyechips are all special! Starting with a light blue with embedded holograms, it continues with a light pink, a light blue with stars printed, and a light pink.
Her cheeks are pink, and her lips are blurred pink with a lining in the corners of the mouth.
The illustration is a proof of concept and does not represent the final product.
Available: August 2018
Price: 26,700 JPY + tax