2018.08.07
Jeffrey Fulvimari Daily Pouch & Tissue Pouch.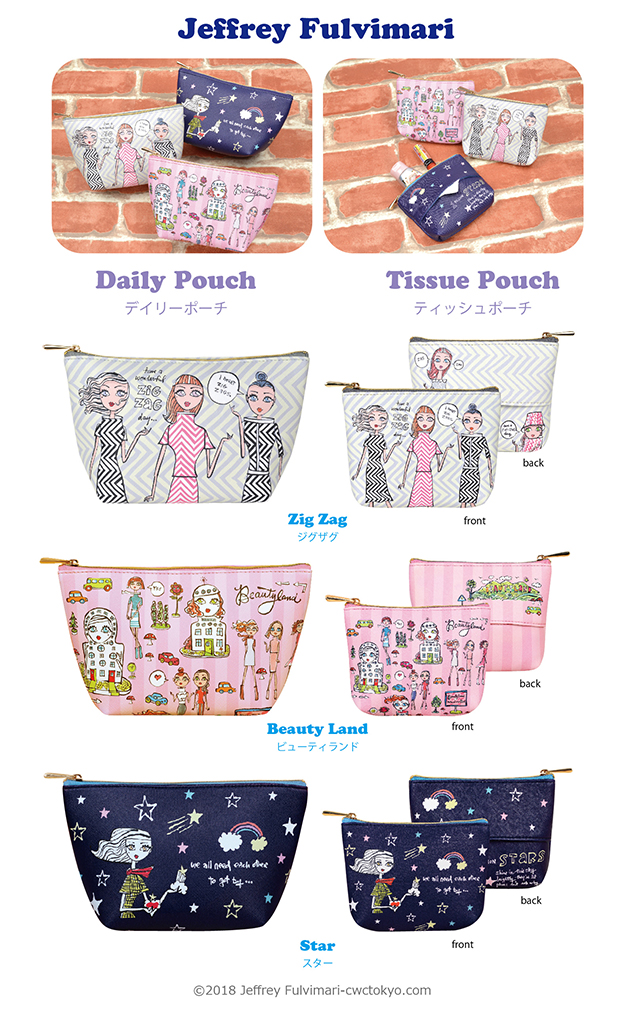 Jeffrey's pouch holds all of your goods in a fashionable design!
The material is strong and will help repel water and dirt.
The "Daily Pouch" is large enough to be used as a small clutch.
The "Tissue Pouch" is perfect for keeping your small tissue pouches and there is added storage space for other things too!
The designs show the lovely illustrations of Jeffrey Fulvimari with three different illustrations there's sure to be one for you!
"Jeffrey Fulvimari Daily Pouch"
3 designs available: Zig Zag, Beauty Land, Star
Size: H 12 x W 21 x D 8 cm
Material: Table cloth(98% polyurethane, 2% polyester), back fabric (100% polyester)
Inside pocket and lined interior
Made in China
Available:11th August 2018
Price: 2,300 JPY
-------------------
"Jeffrey Fulvimari Tissue Pouch"
3 designs available: Zig Zag, Beauty Land, Star
Size: H11 x W14 x D 2.5 cm
Material: Table cloth(98% polyurethane, 2% polyester), back fabric (100% polyester)
Lined interior
Made in China
Available:11th August 2018
Price: 1,680 JPY