2018.09.07
Welcome to my Tea Party! Neo Blythe Cream Cheese and Jam Final Specs!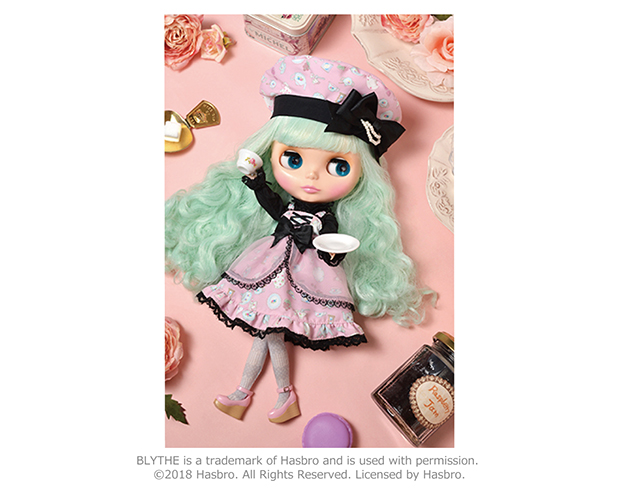 I'm holding an afternoon tea party this weekend.
We're all attending in Lolita style, come dressed in your favorite look!
I'll be making my famous cream cheese and raspberry jam sandwich with sweet milk tea, and I might even bring out my grandmas secret cinnamon sugar toast recipe too!

Cream Cheese and Jam wears a classic lolita look with pink and black colors.
The dress is a combination long sleeve blouse and jumper skirt. The skirt is adorned with a cute tea set pattern with a pink back, with black lace and ribbons.
The chest ribbon lace up, organdy overskirt, and the black cape with pink embroidery and fur collars create a wonderful package all together.

Her face type is Radiance+, and the face color is fair.
Her hair is mint green, cut straight at the bangs and permed to be fluffy.
Her eyeshadow is light brown, and her cheeks and lips are pink.
One of her front facing eye chips are a special light brown.
Face Type: Radiance +
Face Color: Fair
Makeup: Light brown eyeshadow, pink lip, pink cheek
Eye Color: Light Brown (front), Blue (right), Pink (front), Green (left)
Eyelid: Default
Eyelash: Default
Hair Color: Mint green
Earrings: N/A
Manicure: N/A
Set Includes: Doll, dress, cape, hat, tights, pannier, shoes, shorts, and stand (17.5 cm)

Release date: October 5, 2018 (Fri)
Price: 17,900 JPY

*Details are subject to change.
Junie Moon Online Shop International https://www.juniemoonshop.com/