2018.10.19
With a blazing red head of hair and a face full of freckles, Middie Blythe Jolly Jumbly Pippilotta is coming to town!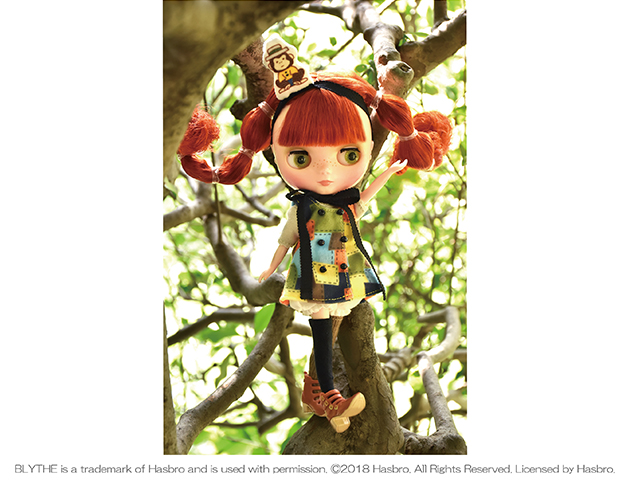 I'm back from traveling around the world in my Daddy's ship.
I hate sitting still and I don't know much when it comes to manners, but I am great at surprising the people around me. So what shall we do to play next?

Jolly Jumbly Pippilotta wears a patchwork, no-sleeve jumper skirt with a light gray t-shirt, bloomers, along with her trademark mismatched long socks.
Her socks are black and light brown, and is worn with a pair of large 4 strap shoes.
On her head is her mascot monkey in the form of a head accessory.
The papercraft trunk is completed by adding a ribbon as a handle.

Her face color is fair, and her red hair is cut straight across the bangs.
Her eyeshadow is green, and her cheeks and nose are sun-tanned salmon pink with brown freckles, and salmon pink lips. Her eyes are yellow green.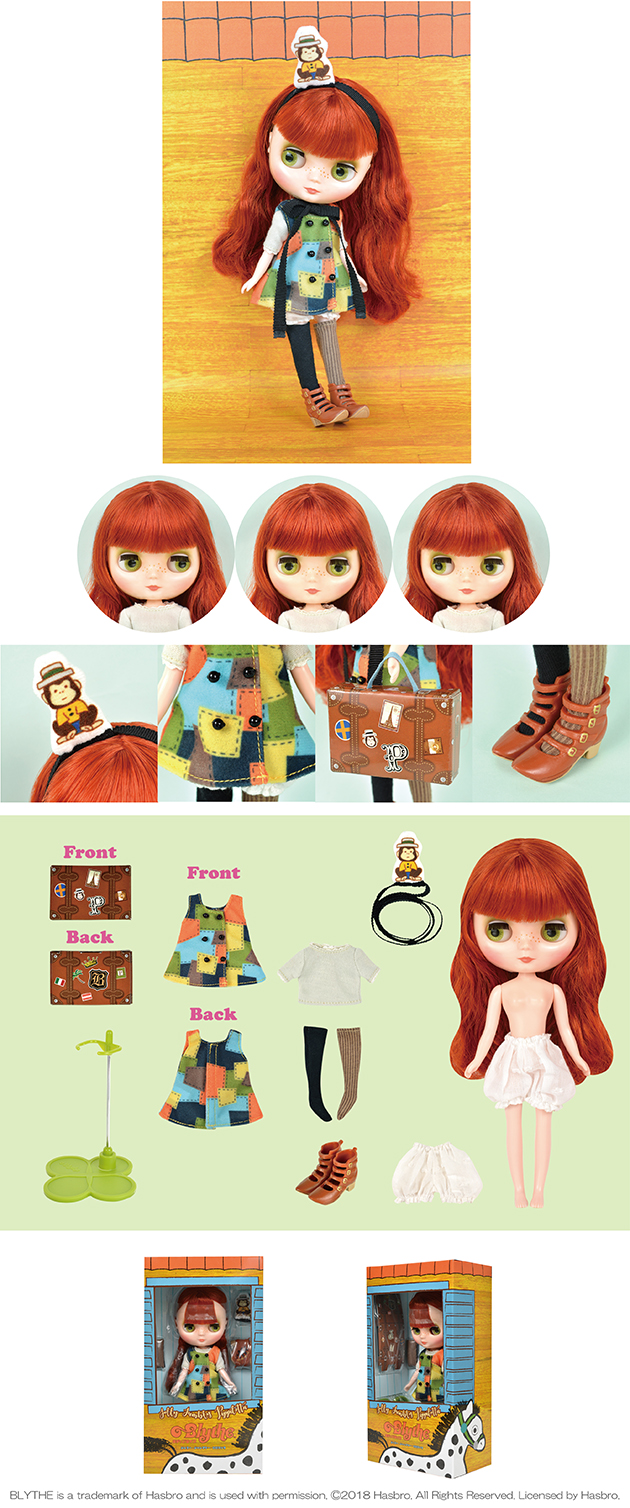 Face Type: Middie Blythe
Face Color: Fair
Makeup: Green eyeshadow, Salmon pink lip, Sun-tanned/freckled cheek/nose
Eye Color: Yellow green
Eyelid: Default
Eyelash: Default
Hair Color: Red
Earrings: N/A
Manicure: N/A
Set Includes: Doll, jumper skirt, t-shirt, head accessory, bloomers, socks, shoes, stand, and papercraft suitcase

Release date: November 30 (Fri), 2018
Price: 12,400 JPY
*Hair has been combed in the photo.
*Details are subject to change.
Junie Moon Online Shop International https://www.juniemoonshop.com/