2019.06.24
Alice Blythe is From the Kingdom on the Other Side of the Looking Glass. CWC Exclusive Neo Blythe Time After Alice Illustration!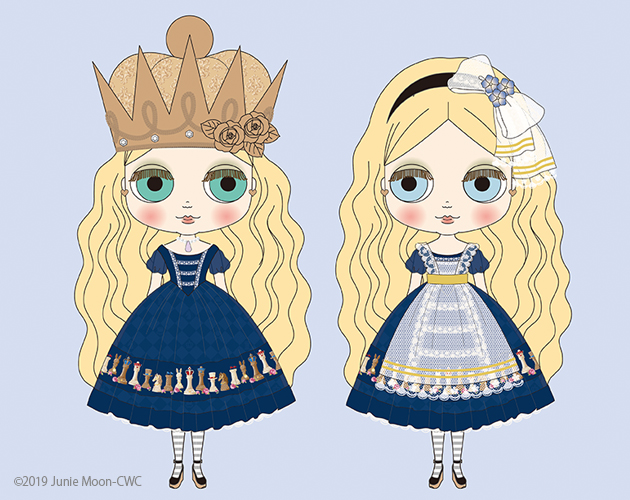 Upside down and inside out. Moving forward or going backwards?
Dizzy reflections of time coming and going after our spirited young Alice.Stop the clock!
She's the real queen you know! See her crown?
Time After Alice is based off of Through the Looking Glass.
She wears a blue apron dress, a ribbon head dress, and bordered tight; a very classic Alice look.
Her dress is adorned with a chess piece design that goes all the way around the skirt, with a toned down dark blue base.
The apron and ribbon uses a see-through material creating an elegant demeanor.
Her long journey in the looking glass has made her wise and royal. The crown on her head is an intricately detailed piece to behold!
Her face type is Radiance Renew, and her face color is cream.
Her hair is a center parted, slightly curled yellow/light brown mix.
She wears olive green eye shadow, with salmon pink cheeks, and edge-blurred salmon pink lips.
Her eyes are light blue, olive green, light brown, and blue, all special colors.
The eye change ring is a special crown and clock charm.
The illustration is a proof of design and does not represent the final product.