2019.07.31
The Beautiful Manager that Supported Lucy All the Way to Stardom! Hasbro Exclusive Neo Blythe Elegant Ellie!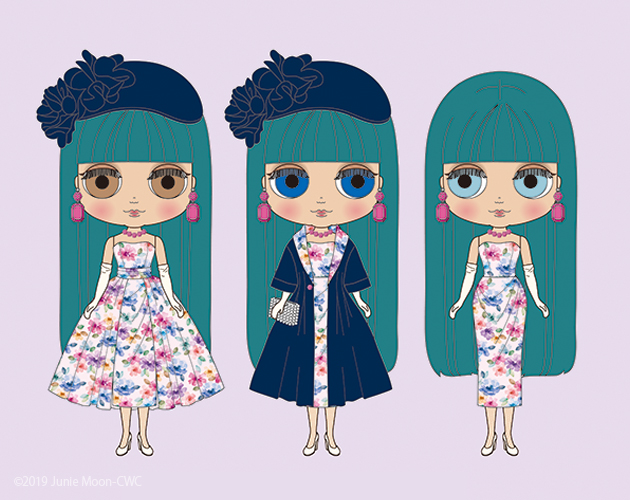 I work as a movie star agent in this big city of lights.
Tonight is the premier of a new movie titled "Dreamy Eyes".
The star is my best friend Lucy, who is also my number one client.
I'm so happy for her big break.
Her dream came true! Later we will stop to celebrate with a bite of fresh oysters on the shell and some bubbly champagne.
Cheers!
Ellie is Lucy's elegant and supportive manager.
For the premier, she wears a gorgeous flower print dress with a coat. The dress is a bare top, I-line long dress with a detachable flair skirt that can be arranged as an over skirt.
The coat has wide sleeves and the same flower print as the dress used in the lining.
Her accessories include a navy shantung hat that uses the same material as the coat, and a magenta pink square cut rhinestone earring and necklace.
She also wears a pair of long gloves, carries a beaded clutch, and a pair of latte colored stockings and high heel pumps.
Her face type is Radiance Renew and her face color is a translucent Latte.
Her hair is a vibrant blue green cut at the bangs.
She wears brown eyeshadow with an eye-line drawn in, with her eyelashes and eyelids being dark brown.
Her cheeks are pink, and her lips are magenta pink. One of her front facing eyes are a special light brown and her left facing eyes are a special light blue.
The illustration is a proof of concept and does not represent the final product.
Available September 2019
Price: 23,800 JPY