2020.05.01
Middle Blythe "Odile – Magical Trickery and Love" Final Announcement
When the magic of darkness melted and I returned to my true form, I could see the "true love" from my love.
Because they taught me something important, I can now walk properly within my own power.

The costume set for Odile is the image of the Black Swan. The neck line ties around the neck like a halter with a ribbon, there is a soft geometric patter and sheer bodice. The bottom has a tulle lace layer and shine under skirt.

The front of the underskirt is paint with a mysterious black swan harkening back to our story. The gold accent color adds a chic splendor to the overall look. The ballet costume comes with a tutu with plenty of tulle. The woven fabric is gold with accented black swan wings and rhinestones.

The head accessory is made from a leather-style tiara. She wears white tights and ballet shoes with a ribbon tie around the leg.

The face color is cream.
The hair style is long with a loose perm and center part, with pinkish brown color.
The eye shadow is wrong and has eye liner!
The cheeks and lips are salmon pink.
She has light brown eyes.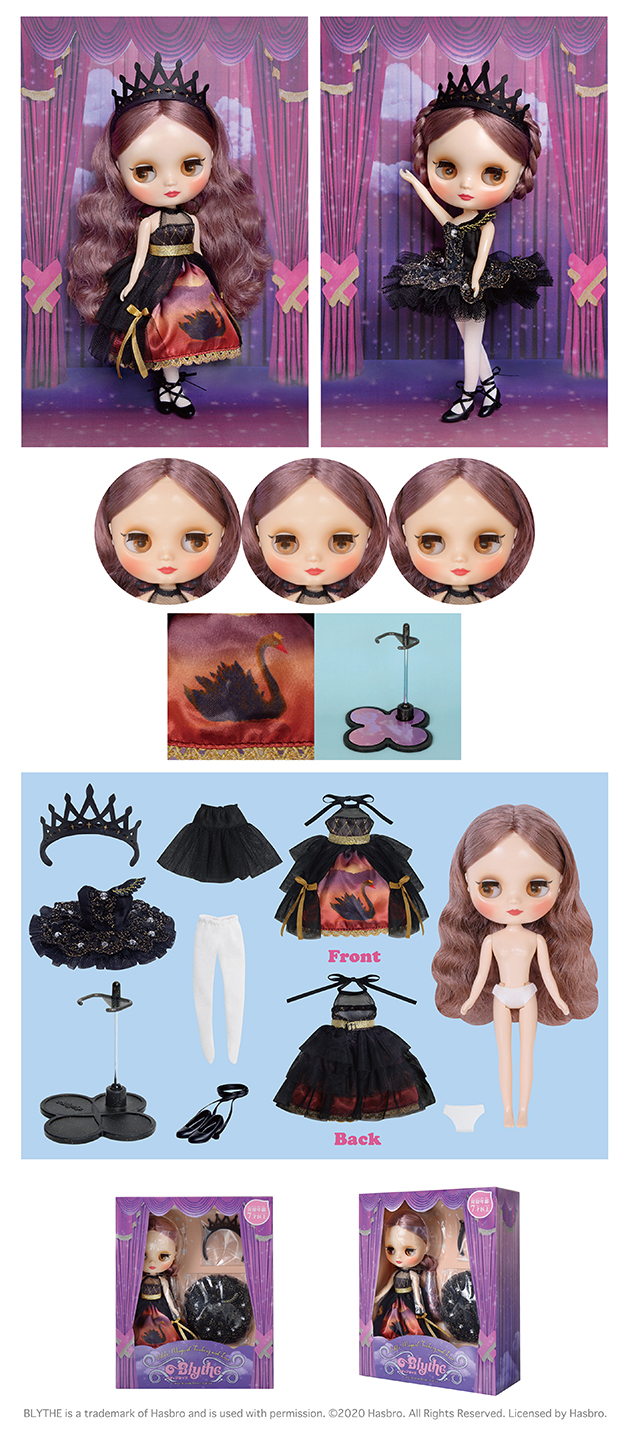 Face Type: Middle Blythe
Face Color: Cream
Make up: Eyeshadow: Brown/ Eyeliner: Black/ Cheek and Lip: Salmon Pink
Eye Color: Light Brown
Eyelashes: Black
Hair Color: Pinkish Brown
Set Includes: Doll, dress, tutu, hair accessory, pannier, tights, shorts, shoes, stand

*Final product may very from this description.
* The hair has been styled for these photos.

Relese Date: May 29, 2020
Price: 14,500 JPY