2020.07.01
We are pleased to announce the release the illustration for the CWC Exclusive 19th Anniversary Neo-Brite "Tokyo Bright"!!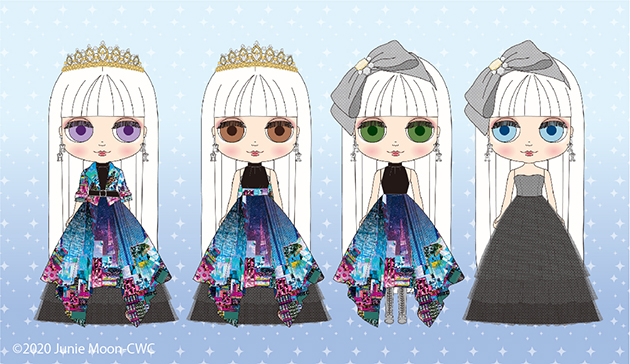 The city of Tokyo is enveloped in glittering neon lights.
It's a city full of surprises and discoveries, where history meets modernity.
I would like to extend a warm welcome to all who come to Tokyo.
The name of the 2020 Anniversary Doll is 'Tokyo Bright'.
Her fashion is inspired by the brilliance of Tokyo's night skyline, with four coordinated fashions to enjoy★.
Long Dress + Overskirt + Jacket + Tiara
A long dress, a jacket with a view of Tokyo in the night printed on it, and a combination high neck top, one-piece overskirt with a tiara accessory on the head.
It has a formal feel to it, perfect for welcoming guests!
Long Dress + Overskirt + Tiara
Long dress with overskirt and large bow at the back, with a tiara head accessory.
It's the perfect outfit for the party scene!
Overskirt + Catsuit
The overskirt can be worn on its own!
The asymmetrical skirt silhouette, lace-up boots, combined with the bow in the back, is a great way to get a look at the asymmetrical skirt silhouette, for a fresh look!
Long Dress + Catsuit
Long dress with the silver top and silver lamé tulle tiered skirt . The silhouette of the dress gorgeously trails down along the ground.
The large silver bow and earrings look elegant and glamorous.
Fashion accessories include earrings, gold Ami tights and silver We have selected lace-up long boots and other items that go well with every outfit. .
Her face type is Radiance Renew and her face color is a translucent cream.
Her hair color is pearl white and she has a long, straight style with bangs.
Her makeup is a brown and pink gradient eye shadow as well as pearlescent colors on her lower lid.
The eyelids are light brown (molded color) and the lashes are a special edition black.
Eyes are light blue, light burgundy, light brown and light purple, all special.
The blush is pink and the lip is a clear pink with lines at the corners of the mouth.
Illustrations are a proof of design and do not represent the final product.
Release date: September 2020.
Manufacturer's Suggested Retail Price: 26,700 yen (excluding tax)