2020.07.22
Final Announcement for Neo Blythe "Sporty Lover Finesse"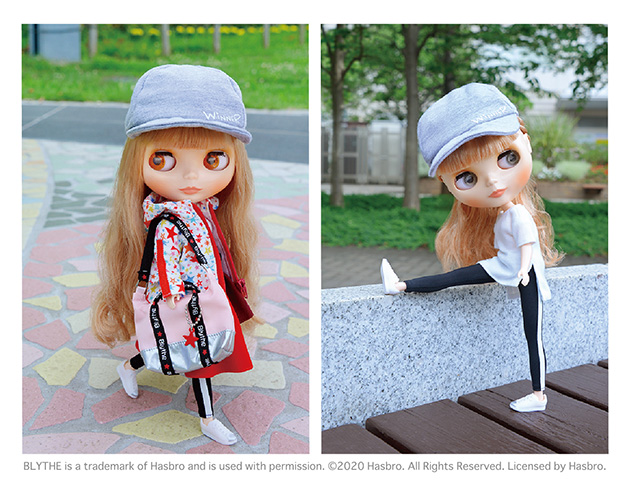 My daily training regime is important for my upcoming sports competitions.
I believe earnest effort will yield great results.
Let's work hard everyday!

"Sporty Lover Finesse" looks great in her simple sportswear and monotone coordination.
The cool t-shirt is perfect for training with the long back hen and side slits. She has leggings with a white line accent and white sneakers.
To keep her positive mental attitude her cap says, "Winner".

When you're ready to hit the streets you can coordinate her with a long skirt of red, wine red and off with different lengths. The zip-up hoodie has a colorful star pattern. Her bag can be used for both hand bag or over the shoulder with the cute word "Blythe" on the shoulder.

The face type is Radiance Renewal and the face color is fair.
The hair style is long with a loose perm and bangs. The hair color is pinkish, light brown.
The make up is natural and healthy. She has brown eyeshadow, salmon pink lips and cheeks.
She has special gray right eyes.

Face Type: Radiance Renewal
Face Color: Fair
Makeup: brown eyeshadow, salmon pink lips and cheek.
Eye Color: blue front, gray right, green front, orange left
Hair Color: Pinkish brown
The set includes: Doll, t-shirt, jacket, leggings, skirt, cap, bag, shoes, shorts, and stand.

Release Date: August 28, 2020
MSRP: 17,900 JPY