2020.11.20
Hasbro Exclusive Neo Blythe Charming Crystalline final specs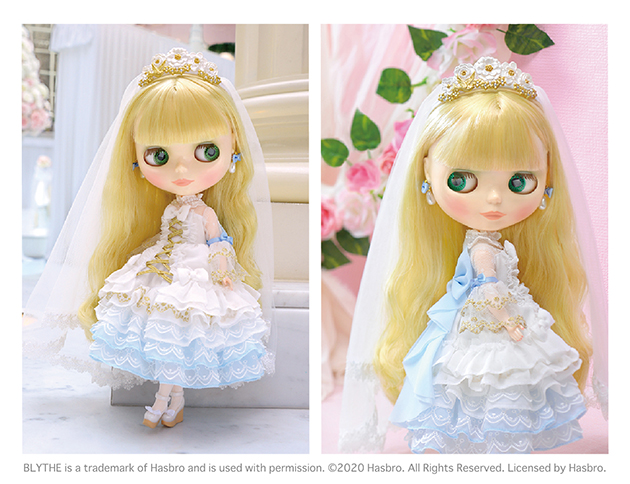 Today is my wedding.
The wedding dress I chose has my favorite Lolita style.
On my special day I want our guests to spend the day as if they were in a dreamland.

Charming Crystalline features a Lolita-style wedding dress. ♡
The white dress is accented with light blue and gold.
The tiered dress has a laced from with romantic frills and lace. ★
The sheer princess sleeves that bells out from the elbows.
The skirt has added volume with a tulle petticoat.
The dress has a short train with a ribbon that extends to a midi length skirt.
The pear white tiara has gold flowers with a long veil.
She wears tear drop pearls with blue ribbon accents.
She wears long bloomers under her dress.

The face type is Radiance Renew, the face color is Snow.
She has long blonde hair with bangs.
She has bright olive green eyeshadow and eyelids, light brown eyelashes, and pink cheeks and lips.
She has one special front facing eye color in light blue and special light green with a gaze to the right.

The eye change ring is gold colored.

Face Type: Radiance Renew
Face Color: Snow
Makeup: Light olive green eye shadow, pink lips and cheeks
Eye Color: Light blue, light green, pink, stock green
Eyelids: Light olive green (plastic color)
Eyelashes: Special light brown
Hair Color: Blonde
Earrings: Pearl and ribbon
Manicure: Pink
Set Includes: Doll, dress, headdress, earrings, petticoat, bloomers, socks, shoes, stand.

* Final product may differ from images.

Release Date: December 18, 2020

* Hasbro Exclusive dolls are imported products so the release date for each Junie Moon store is scheduled for February 2021.
* The sales schedule will be announced on the official Blythe website as soon as it is confirmed.

Manufacturer's Suggested Retail Price: 23,800 JPY