2021.03.05
CWC Exclusive Neo Blythe "hello again Junie Moonie Cutie" final details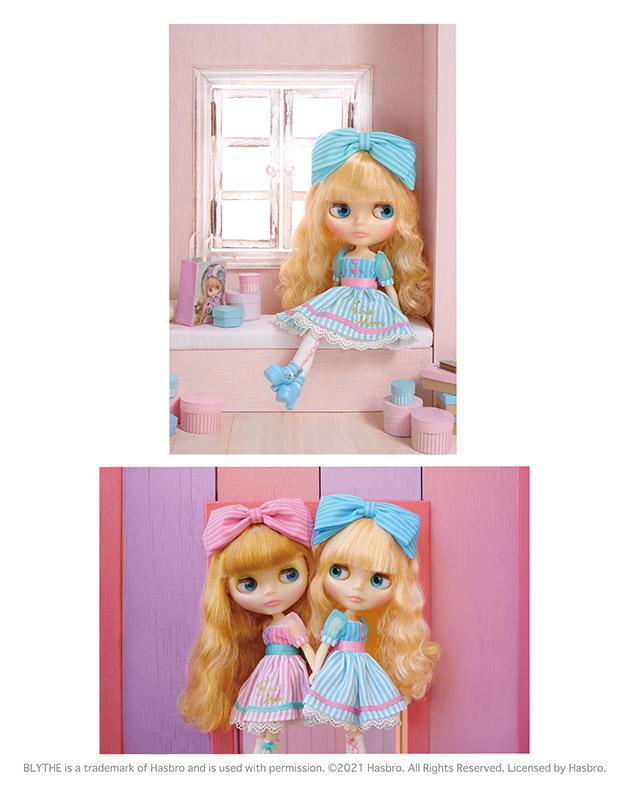 I'm Junie Moonie Cutie.
My house is Junie Moon. I'm the shop image girl and I love to meet all my fans!
Let's continue having a great time together! ♪

"Hello Again Junie Moonie Cutie" has a new look with cute blue color theme.
We love the blue stripes style with soft pink accent colors.
The dress is sheer organdy puffed sleeves and the skirt is a girlish shop with knee length hem.
Some other cute accents are the heart-shaped buttons and waist ribbon.
The "Junie Moon" shop logo is embroidered in gold.
The hem is adorned with sweet lace to complete the cute look.

For her hair accessories, she has a large ribbon. She wears heart-shaped stud earrings.
Her high socks have a lace-up print with decorate ribbon, and she wears four strapped shoes.
She wears pink and white striped bloomers for underwear.

Her face type is Radiance Renewal with translucent cream skin color.
She has long blonde hair that is permed with bangs.
She wears brown eyeshadow wth light brown eye lids, pink cheeks and a special plump lip shape.
She has four special eye colors: brown (front) , mint green (left), pink with a heart print pupil (center), and light blue right!

When you change the eyes, you can pull the charms with the Blythe and Junie Moon logos.
It also includes a minature-sized Junie Moon shopping bag and small paper items in the doll's packaging box.

Please attach your favorite ribbon or cord to the handle of the shopping bag.

Face Type: Radiance Renewal
Face Color: Translucent Cream
Makeup: Brown eyeshadow and eyelid, pink limps in a special plump shape, pink cheeks
Eye Color: brown (front) , mint green (left), pink with a heart print pupil (center), and light blue right
Eyelids: Light Brown
Eyelashes: Light brown in default shape
Hair Color: Blonde
Earrings: Yes, heart-shaped studs
Set Includes: Doll, dress, head accessories, earrings, socks, bloomers, shoes and stand.

* Please note, final product may differ from this image.

Release Date: March 26, 2021
Price: 17,900 JPY (excluding tax)