2021.04.09
CWC Exclusive Neo Blythe "Spring Hope" final design announced!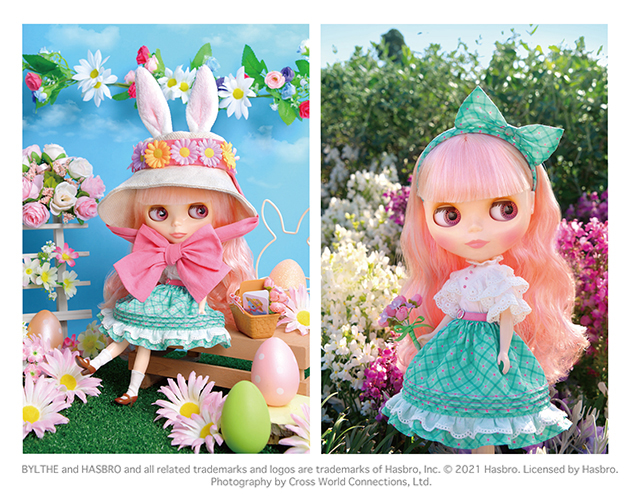 In Spring, flowers are blooming, rabbits and chicks are having fun on the grass,
and the future is full of hope! I can feel it.
It's going to be a great day!

Spring Hope wears the most lovely of Spring fashions with her blouse, skirt, and hat with rabbit ears.
The top is short-sleeved blouse with lots of cotton lace on the collar, sleeves, chest and hem.
The bottom is a gathered skirt with refreshing mint green checkered pattern. The design is elaborately detailed with pin tucks at the hem. cotton lace, and pink satin ribbon belt. She also comes with a wide-brimmed hat with fluffy fur rabbit ears and flowers that tie a ribbon under the chin.

The undergarment are bloomers. On her feet she wears white socks and brown one-strap shoes. A mini card, bouquet of flowers and cute square basket with a pink ribbon are also included.

Her face type is Radiance Renewal and her face color is cream.
Her hairstyle is long with a perm. It is a mix of light pink and pink, to create a nuanced soft pink color.
She has brown eyeshadow with light brown eyelids. She has special light brown eyelashes with pink blush and lips.
Her eyes are light blue front facing, light pink right, light brown front, and light green left in all special colors.
The pull ring is a rabbit tail shaped eye change charm with a ribbon.

Face Type: Radiance Renewal
Face Color: Cream
Makeup: Brown eyeshadow, pink lips, and pink cheeks.
Eye Color: light blue, light pink, light brown, light green *All special colors
Eyelids: Light brown
Eyelashes: Special light brown color
Hair Color: Mix of pink and light pink
Nail Polish: Yes
Set includes: doll, blouse, skirt, hat, catsuit with ribbon, basket, Easter card, flower tassel, drawers, socks, shoes, stand

*Final product may differ from this image.

Release Date: May 7, 2021
Retail Price: 24,200 JPY (tax in.)