2021.06.21
Junie Moon Summer Fair starts July 1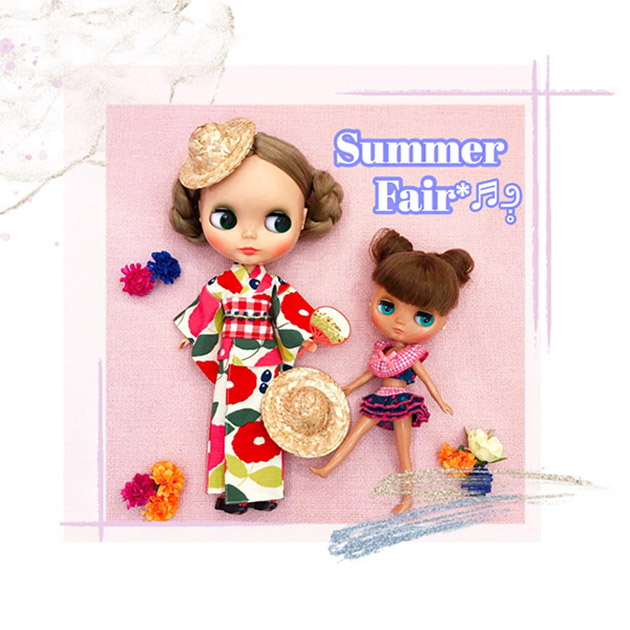 Summer Fair will start at the Junie Moon stores from July 1. The July products are perfect for this time of year and don't forget we have a new set of collectable trading stickers for the month of July!


Summer Fair 1: Neo Blythe 20th Anniversary Trading Sticker Novelty July Limited Edition
Dear Darling, Blythe goods, and Jeffrey Fulvimari goods are all eligible for this promotion. You will receive one sticker randomly for every purchase of 3,000 JPY or more.

Enjoy these special July release stickers.

Please check the store blog for the three new July patterns.

Distribution conditions

Random distribution of one target product for every purchase of 3,000 yen (tax included) or more
* One for 3,000 yen, two for 6,000 yen, and so on. One for every 3,000 yen will be distributed even within one transaction. The payment amount cannot be added up. (Shipping fee is not applicable.)
* You cannot choose the pattern. If you are eligible to distribute multiple copies in one transactio

Promotion is only applicable for the following items: Dear Darling, Blythe goods, and Jeffrey Fulvimari goods.

Duration: Orders placed on Tuesday, July 1, 2021 to shipped on Tuesday, July 31, 2021
* There is a limited amount available. We will not take requests for the stickers as they will be given at random.
* Available only while supplies last.


Summer Fair 2: Stainless Steel Bottles and Reusable Bottles 10% off
Stainless steel bottles, reusable bottles and other bottles are perfect for the Summer season. We are offering 10% off these items!

The stainless steel mini-bottles, one-touch bottles and reusable bottles by Jeffrey Fulvimari are also eligible for this discount. This is a must have item for the hot summer months!

Eligible Products: Blythe "one-touch Stainless Steel Bottle", Blythe "Stainless Steel Bottle Mini", Jeffrey Fulvimari "Reusable Bottle"

Duration: July 1 - July 31, 2021


Summer Fair 3: 10% off the set of 3 Collection Guide Books
The complete set of collection guidebooks will be on sale for 10% off for a limited time.
The set includes the entire Blythe history from Chronicles of Love, Legacy Continues, and Collection Guidebook. This complete set is essential for all Blythe collectors.

Duration: July 17- July 31, 2021


Summer Fair 4: Dear Darling Summer items receive a Nimi straw hat as a present
Purchase any of the Dear Darling Yukata, Beach Bikinis, and Scalloped Hem One-Piece dress and you will receive a free mini straw hat as a present. The mini straw hats are cute to style or use them as decoration.

Please enjoy your summer vacation!

Eligible Products: Dear Darling Yukata, Beach Bikini, or Scallop Hem One Piece
* The mini straw hat will be a free present. Mini straw hat will have a clip or pin attached.

Duration: July 1 - July 31, 2021 * available only while supplies last.


** Fun Project **
Every Tuesday each store will introduce it's recommended sundries under the theme of "Summer Outings". We will be introducing new products that are perfect for this time of year.

Please check out our Instagram to participate!

Be sure to check the Instagram of each of our shops so you can see all the cute things coming out!