2021.10.14
Blythe 20th Anniversary Luvhug Blythe Release Date Change.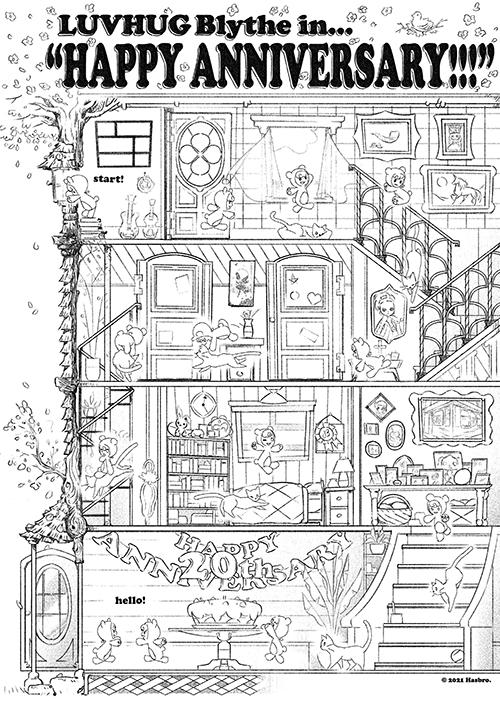 We are pushing back the release date of Luvhug Blythe "Penny Bear" (pink) and "Benny Bear" (brown), which was to be released in October of 2021 to celebrate the 20th Anniversary of Neo Blythe.
Luvhug Blythe is a unique new plush toy with a vinyl face that is currently in development.
Luvhug's face was modeled based on the Middie Blythe face and manufactured in Japan. Each face is handpainted by a veteran craftsman with decades-long experience working in the soft vinyl toy industry.
The plush body is made with materials dyed specifically for Luvhug. The lower part of a Luvhug's body is filled with heavy pellets that give it stability when placed in a sitting position.
We are currently getting production samples made from our manufacturer in China. We are almost there! Thank you so much for your patience.

Penny Bear (pink)
Penny loves to invent useful tools and devices in her home laboratory. Her latest creation is a robot bed that moves around the house with her still on it! Perfect for those lazy Sundays you want to spend under the covers.
One of her hobbies is inventing new musical instruments for her best friend Benny to play. She also loves to bake cakes whenever Benny throws a party.

Benny Bear (brown)
When it comes to having a good time, Benny is top-notch!
He is a genius at music and can play any instrument, from guitars and bongos to DJ sets.
He also loves to throw parties, and when his best friend Penny makes a new instrument, he invites friends over to play it.
Oh, and Penny's cake is his favorite!

"Love Hug Blythe"
Release date : Winter of 2021