2022.03.24
Blythe Tote Bags are back for summer!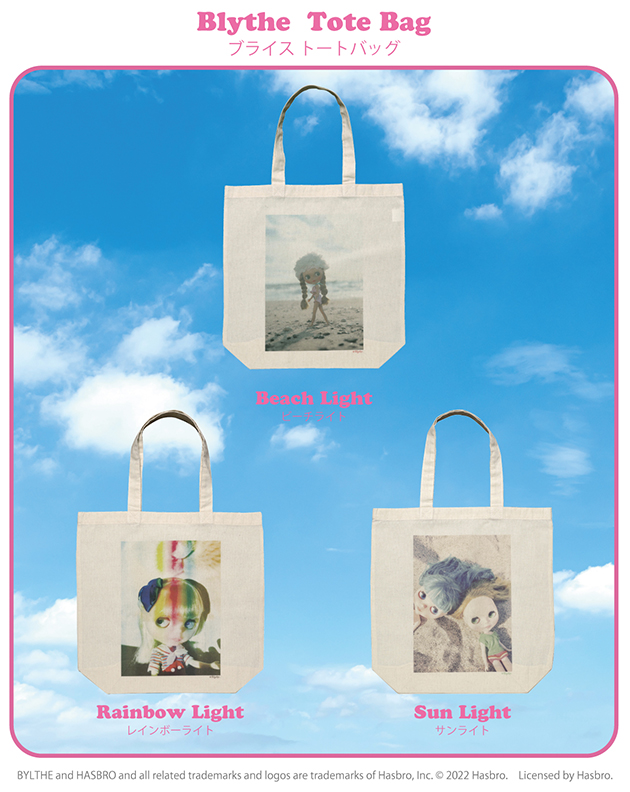 Welcome to the fresh and natural look of summer with a Blythe tote bag.
The tote is a slightly darker off-white color. It can be used as an everyday bag or an eco-bag when you go shopping.
The design features a large photo of Blythe's image on the front, the same as the t-shirt series.
All of the printed images are brand-new for Summertime.
"Beach Light" is a cute, coordinated-swimsuit Blythe strolling on a sunny beach, "Rainbow Light" is an artistic sensation. "Sunlight" features Blythe relaxing on a beach.
Blythe Tote Bag
Total 3 types: Beach Light, Rainbow Light, Sunlight
Size: approx. W36xH37xD11cm (ship's bottom), handle size: approx. W2.5xL56cm
Material: 100% cotton
Body made in China, printed and finished in Japan.
Retail price: 1,980 yen (1,800 yen without tax)
Release date: Wednesday, March 30, 2022