2022.12.26
CWC Limited Edition Neo Blythe "Quintessential Journey" Illustration Announcement.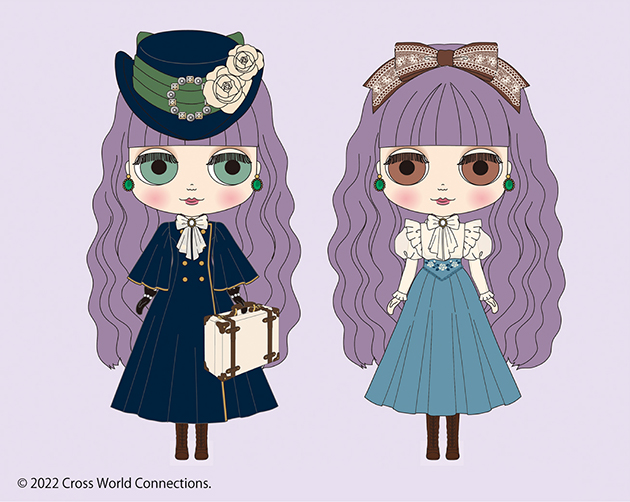 The train pulls in and our journey begins.
This steam train will take us from the highest mountain to the lakes below.
We are excited to go on the greatest railway trip in the entire world.
My name is Quinn and with me is my little sister Mary. We have begun a quintessential journey.
"Quintessential Journey" is based on a classical Victorian-era travel style.
She wears a blouse with shoulder ruffles, a bow tie, and a high-waisted A-line skirt.
A long A-line coat with small buttons on the front. The sleeves and hem are loosely spread at the end.
Her hat is accented with rhinestones and roses to go with the coat.
The set also has lace, satin ribbon hair accessories, blue-green rhinestone and pearl earrings, pearl-embellished gloves, a suitcase, drawers, socks, and long boots!
The face type is Radiance Evolution, and the face color is cream.
The hair color is pinkish purple, and the hairstyle is long permed hair with bangs.
For the makeup, dark brown eye shadow, pink blush, and bi-color lip: coral pink (upper lip) x pink (lower lip).
Eye colors are light brown (front), blue-green (right),blue (front), and dark brown (left) *All are special colors .
*This product is intended for ages 15 and up.
Illustrations are design drawings. Specifications may differ from the product.
Release date: Scheduled for February 2023
Suggested retail price: 28,200 yen (including tax)