2023.03.22
Neo Blythe "Urban Fairy Ellie" Illustration.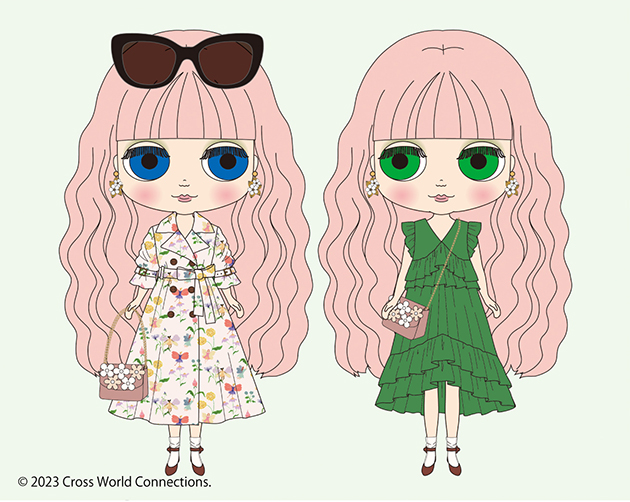 Do you know when you are touched by a fairy?
It can happen anywhere. Even in the city, even in your home.
You can smell the sweetness of honey and blossomed flowers everywhere.
That's when you know, a fairy was near.
The "Urban Fairy Ellie" look is what everyone wants for this spring.
She wears a green dress with many ruffles and a designer coat decorated with fairies and flowers.
Fashion accessories include unique thick-framed sunglasses, flower motif-accented earrings, and a flower-adorned handbag.
Short socks and strap shoes for the feet go great with the outfit.
The face type is Radiance Evolution, and the face color is Fair.
Her pink hair, a charm point, is long and permed with bangs.
Eyeshadow is yellow-green, blush is pink, and lips are pink with a plump mask.
All eye colors are default colors.
*This product is intended for ages 15 and up.
*Illustrations are design drawings. Specifications may differ from the product.
Release date: Scheduled for May 2023
Suggested retail price: 22,600 yen (including tax)