2023.04.25
Neo Blythe "Brenda's Extraordinary Day" Illustration.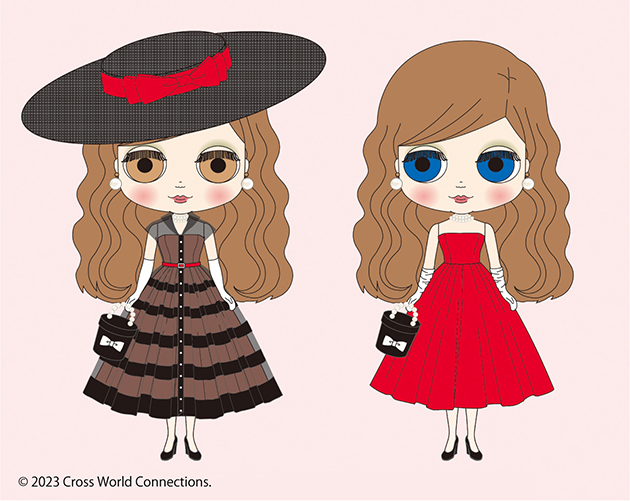 It's a typical day for Brenda today with grocery shopping and errands to do.
But every step out the door of her apartment makes it an extraordinary fashion experience as she dresses from head to toe.
She heads for the butcher for some pork chops and to the baker later for some freshly baked bread.
Oh! what to wear to make a typical day extraordinary? !
"Brenda's Extraordinary Day" has lots of fashion options for the most important and extraordinary days!
Today she's chosen to go out wearing a formal black dress accented with red and white — truly an elegant look.
Brenda also has a simple red one-piece over a striped organdie over-dress.
A petticoat gives the skirt a fluffy volume.
Fashion and accessories includes a wide-brimmed hat, pearl earrings and necklace, long gloves and vanity bag,
Fishnet stocking and high heels complete the fashion coordination.
Her face type is Radiance Evolution, and her face color is fair.
Hair color is light brown. The hairstyle is long hair with a side part perm.
As for makeup, the eye shadow is light green, and the cheeks and lips are pink.
The eye color is set to light brown on one of the fronts.
*This product is intended for ages 15 and up.
*Illustrations are design drawings. Specifications may differ from the product.
Release date: Scheduled for June 2023
Suggested retail price: 22,100 yen (including tax)