2023.05.30
We are pleased to announce the illustration of the CWC exclusive 22nd Anniversary Neo Blythe "Aurella Amphitrite"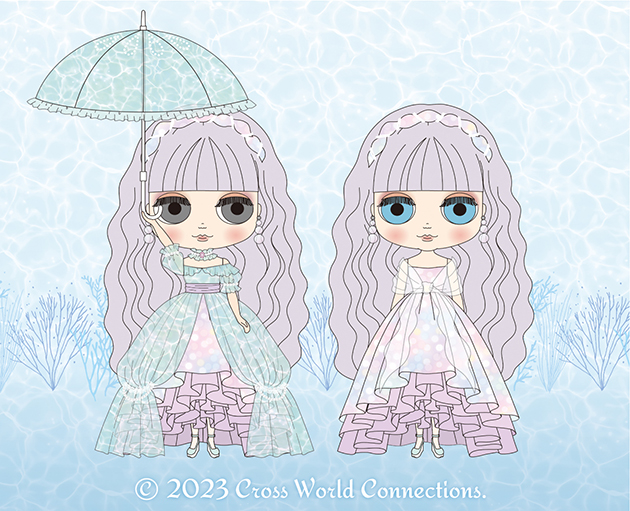 The 22nd Blythe anniversary doll theme: The world of the deep blue sea.
It will be released in July 2023!
Story
In the deepest part of the ocean, it is cold and dark.
But this is where Aurella lives, dancing with the currents, luminous and free.
She twirls her umbrella and propels herself, and leads the smack of other jellyfish in this undersea waltz.
Aurella Amphitrite's dance illuminates even the deepest and darkest of the sea.
"Aurella Amphitrite" wears a dress inspired by shimmering jellyfish and sparkling lights found deep in a mysterious sea.
The A-line dress comes with a sleek top and voluminous skirt. The outfit is color coordinated in pink, light purple, and blue-green, and accented with pearls and aurora borealis beads.
The underdress is designed to evoke the feeling of illumination. The skirt is made of three pieces. It is shorter in front with a slightly longer back hem. A petticoat increases the volume.
The overdress is made of organdy fabric printed with an undersea wave pattern and transparent finish. It is decorated with pearl beads and large ribbons.
Fashion accessories include an umbrella matching the overdress, a hair band, a pair of aurora bead earrings, a pearl and rhinestone choker, and a shawl which complements the dress. High socks and strapped shoes complete the ensemble.
The face type is Radiance Evolution and the face color is translucent cream.
The hair color is a new light-purple. It is long, finely permed hair with bangs.
The makeup has a lot of special specifications.
Eyeshadow is brown and dark pink. The blush is pink, and the lips are plumped up in a clear pink that blends softly at the edges.
The eyelids are light-brown and the lashes are a special black.
Eye colors: blue-green (front), dark-gray (right), light-purple (front), and light-brown (left). All are special colors★.
Please look forward to the announcement of the final specifications.
*This product is intended for ages 15 and up.
Illustrations are design drawings. Specifications may differ from the product.
Release date: Scheduled for July 2023
Suggested retail price: 32,890 yen (including tax)