2023.08.01
The Blythe 2-way stainless steel tumbler is now available!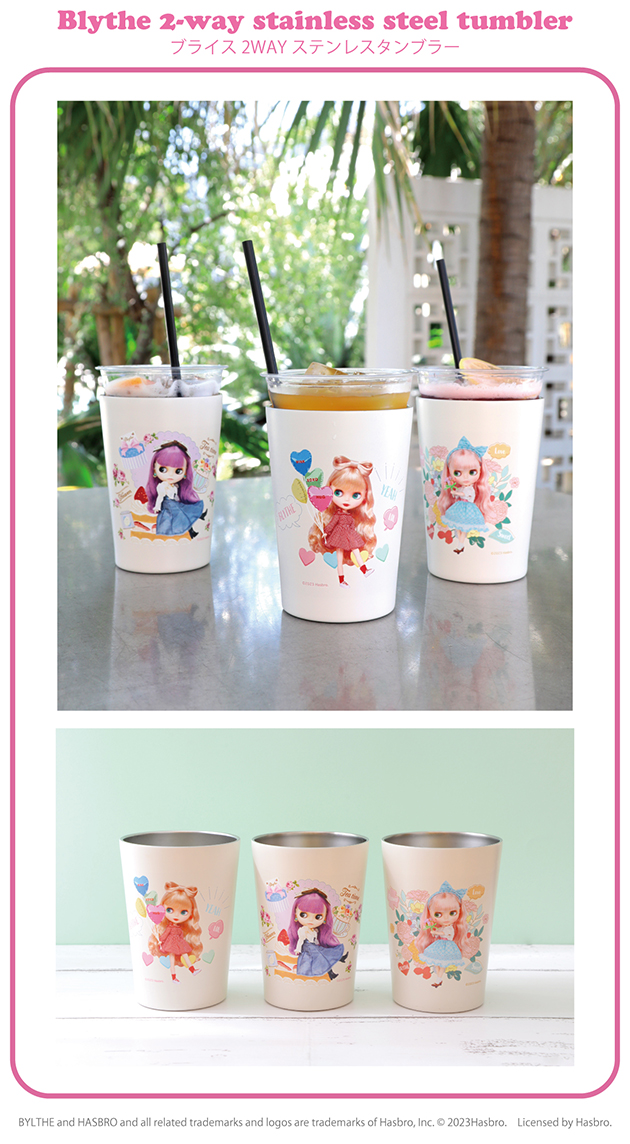 This stainless steel tumbler is usable as a hot/cold tumbler by pouring drinks directly into it, or it can hold. It is M-size cups so it is perfect for convenience stores coffees and cold drinks. It keeps the drink hot or cold for longer than the cup it came in.
The vacuum double-layer construction keeps the temperature for a long time and prevents condensation from dripping on the table!
Three designs are available: Flower (Spring Hope), Balloon (Fightin' Milk Saran), and Cake (Quintessential Journey).
Blythe 2-way stainless steel tumbler
Total 3 types / (Flower, Balloon, Cake)
Size: H12 x W8.5 cm, body diameter top 8.5 x bottom 6.5 cm
Material: Stainless steel
Approx. 450ml
Body made in China, print and finish made in Japan
Comes in a plain cardboard box
Release date: Saturday, August 11, 2023
Retail price: 2,420 yen (price without tax: 2,200 yen)
--------------
Usage Instructions
Before use, thoroughly wash.
Please be careful not to overfill the beverage.
To increase the heat-retention, depending on your drink, preheat or pre-cool)the tumbler for 1 to 2 minutes by adding a small amount of boiling water or cold water) before use.
If you drinking a hot drink, be careful not to burn yourself. The outside of the container will not feel hot because the tumbler is very well insulated.
You can also use a drink holder if the convenience store drink cup fits into the tumbler.
Please be especially careful with hot beverages, as they may cause burns.
Care Instructions
After use, wash with a sponge using a neutral detergent and rinse with plenty of water so that odors do not remain.
After washing, dry thoroughly. Moisture may cause rusting or cause the formation of mold.
Do not use an automatic dishwasher or dish dryer. It may cause deformation, leakage, or damage.
Do not heat in a microwave oven, it is metal.
Do not leave within reach of infants. It may cause burns, etc.
Do not leave the tumbler near a fire such as a stove or stove top. Doing so may cause burns, deformation, or discoloration.
Do not leave the product to be washed or sterilized by boiling. Doing so may cause deformation, leakage, or damage.
Do not put the product in a freezer. Doing so may cause deformation or discoloration.
If the outside of the main body starts to feel hot, please discontinue using.
Do not use this product for any purpose other than keeping drinks warm or cold.
Do not drop, bump, or otherwise subject the product to strong impact. Doing so may result in injury due to breakage. Doing so may cause the body to be dented, resulting in a deterioration of the heat/cool retention performance.
Do not put dry ice in the container as it may cause deterioration.
Do not leave drinks in the container for long periods of time.
Do not use it while the car is in motion. It may cause burns and stains to the inside of the car and clothes. In addition, if you are the driver, it is very dangerous because it distracts your attention from driving.
● Please be very careful when using the product near personal computers or precision machinery.