2018.08.03
CWC Produced Collaboration Middie Blythe, Blythe & Rilakkuma Super Stars Final Specs!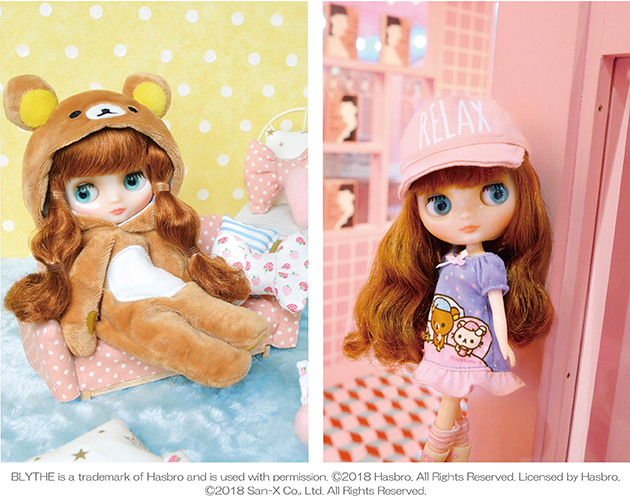 I'm a tiny superstar with a BIG love for Rilakkuma!
When I'm working, and when I'm relaxing, I'm always wearing something with him on it.
In my next live show, I'm going to go up wearing his T-Shirt, and then I'm gonna relax at the hotel in his jammies!

Blythe & Rilakkuma Super Stars has two types of fashion. One is a kigurumi pajama made for a day spent indoors. This has a hood with rilakkuma's face embroidered onto it, and encompasses the whole body.
The shopping outfit consists of a T-Shirt dress and a cap. Rilakkuma and Korilakkuma is printed onto the front along with a few Kiiroitoris. Along with a pair of scrumped up socks and pink lace up boots, this pink/purple/yellow color combo is perfectly girly and adorable.

The face is a translucent cream color. The hair is brown, permed slightly with the bangs cut straight across. Her eye shadow is brown, and her cheeks and lips are coral pink. Her eyes are mint green.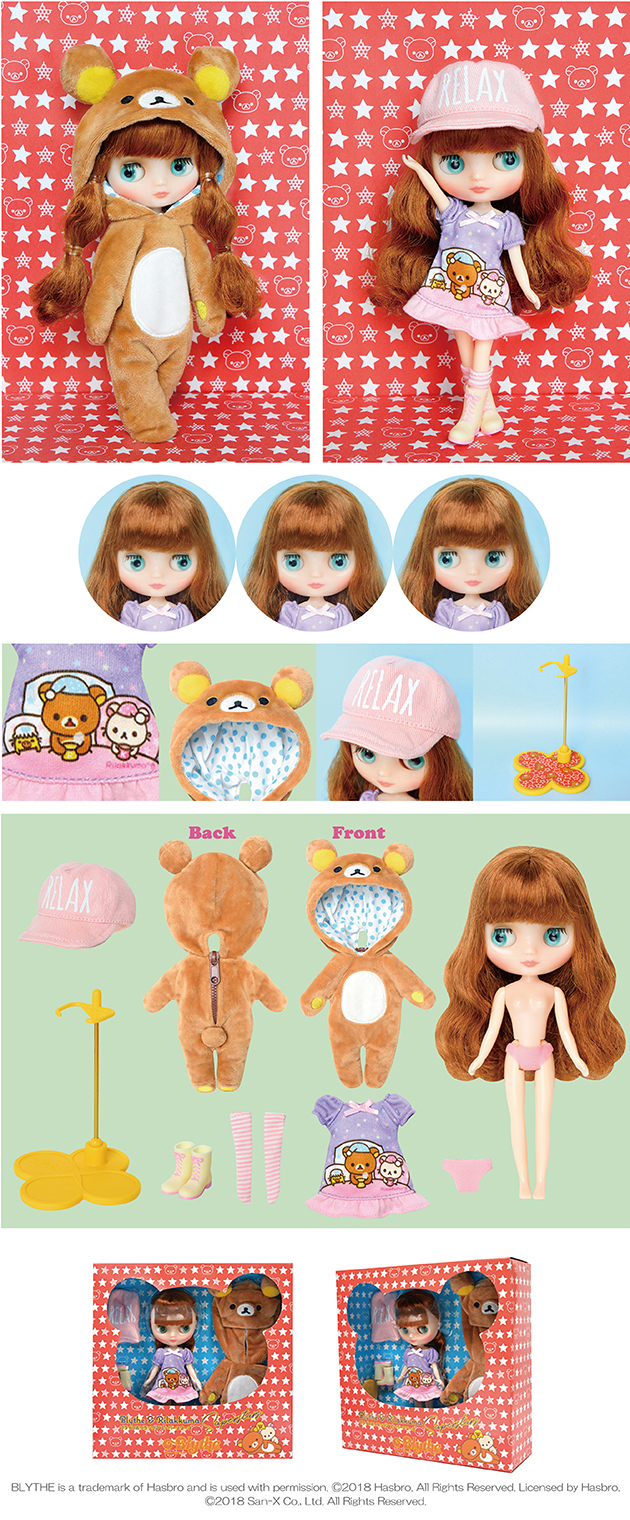 Face Type: Middie
Face Color: Translucent Cream
Makeup: brown eyeshadow, coral pink lip, coral pink cheek
Eye Color: mint green
Eyelid: default
Eyelash: special dark brown color
Hair Color: brown
Earrings: N/A
Manicure: N/A
Set Includes: Doll, kigurumi, dress, cap, shorts, socks, boots, and stand

Release date: August 31, 2018 (Fri)
Price: 17,400 JPY
*Hair has been combed in the photo.
*Details are subject to change.
For international Blythe fans, this exclusive doll can only be purchased through Juniemoonshop.com.
Because of the licensing agreement with the licensor of the Rilakkumacharacter, sales of this doll are limited to the following countries:
・USA
・China
・Hong Kong
・Taiwan
・Korea
・Malaysia
・Philippines
・ EU (28 member countries)
Belgium, Bulgaria, Czech Republic, Denmark, Germany, Estonia, Ireland,Greece, Spain, France, Croatia, Italy, Cyprus, Latvia, Lithuania,
Luxembourg, Hungary, Malta, the Netherlands, Austria, Poland, Portugal,
Romania, Slovenia, Slovakia, Finland, Sweden, UK
Junie Moon Online Shop International https://www.juniemoonshop.com/