2014.09.17
Let's live the "Little Red Riding Hood Story" with Neo Blythe Scotty Mum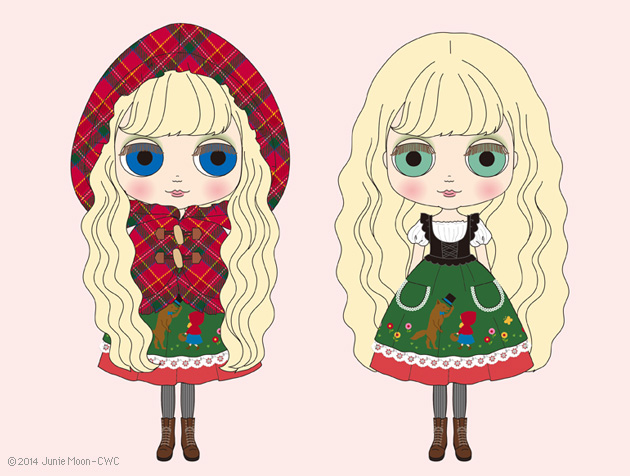 "It's a dark and rainy night in the forest. It's so dark, in fact, you can't see the steps in front of you but I have to deliver this package to my sick grandmother.
My courage will be my light in this dark night!"

The 2014 version of "Little Red Riding Hood" is our "Scotty Mum" Neo Blythe.
Her hooded cape invokes the famous fairy tale.

She has a one piece skirt and blouse. She wears a green vest with a black lace pinafore.
The pinafore features applique that tell the story of "Red Riding
Hood" meeting the "Big Bad Wolf"! The tiny flower embroidery is accented with a lovely lace trim along the hem. Her cape has a lovely hood that looks
beautiful on Blythe. She has knee high socks and long bloomers to complete the look.

She has long, blonde hair with bangs set in a perm.
She wears green eyeshadow and pink lipstick and cheeks.
She has special brown eyelashes with a special light green eye chips set
with a forward facing gaze.
She has a Radiance + face.

Release Date: November 2014
Price: 16,800 JPY

* Purchase information will be released when the official photos are posted up.