2012.07.13
Neo Blythe "Pickle Winkle" Final Illustration!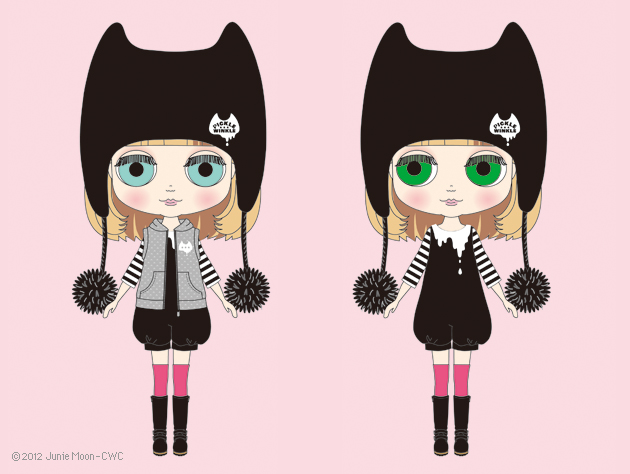 Hello! My name is Pickle.
I am a member of dance team "Winkle".
I dance with everybody everyday.
I always practice hard steps over and over again until I master it because I want to be perfect at the next stage!Please come to cheer our "Winkle" dance team!
Pickle's fashion is monotone base coordinated with unique items.Her clothes are great for dancing. She can move around in any steps with her all-in-one attached with pumpkin shorts and no sleeves zipper parka.Her fashion point is the devil horn alike hat with Pickle's team name "Winkle" printed on it.
The hat is also styled with huge pompoms on both sides.
Her knee height socks in magenta adds an accent color to her overall coordination.
She is also wearing double belt engineer boots!
Her hair style is popular bob in dark blonde with dark brown streak on her bangs.Her eye shadow is pink brown, lips and cheeks are pink. Her face type is Radiance and face color is cream.
The illustration is the image of the product, final production maybe slightly different.
Release date: September 2012
Retail price: 14,490 yen (tax included)