2012.09.03
Final Design Details for Neo Blythe "Slow Nimes"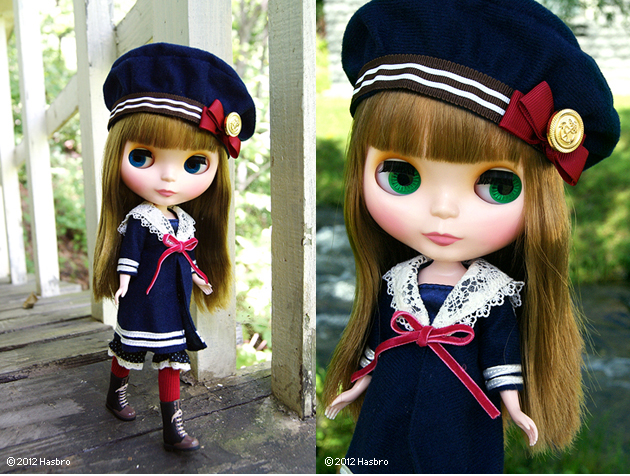 Slow Nimes is a unique girl who lives life on her terms.
She chooses to live slowly and cherish each moment of the day.
Her coat and beret are navy blue and have crisp look.
The coat has a special sailor suit style collar with cute lace.
The shape of the coat is a lovely A-line with 3/4 length sleeves.
She wears a cute camisole under the coat with white polka dot black bloomer pants.
Her beret is adorned with two kinds of ribbon and lovely gold button to add to the nautical look.
She wears dark red knee socks and two toned "lace-up" style boots.
Her hairstyle is long and straight with straight bangs. Her hair color is light brown.
She wears beige eyeshadow and rose colored lips and cheeks.
This natural make up gives her a healthy glow.
Her face type is Fairest, in a long awaited "natural" tone.
She has special grey eye colors in the forward glance.
Her stand i dark brown and she has a gold tone pull ring.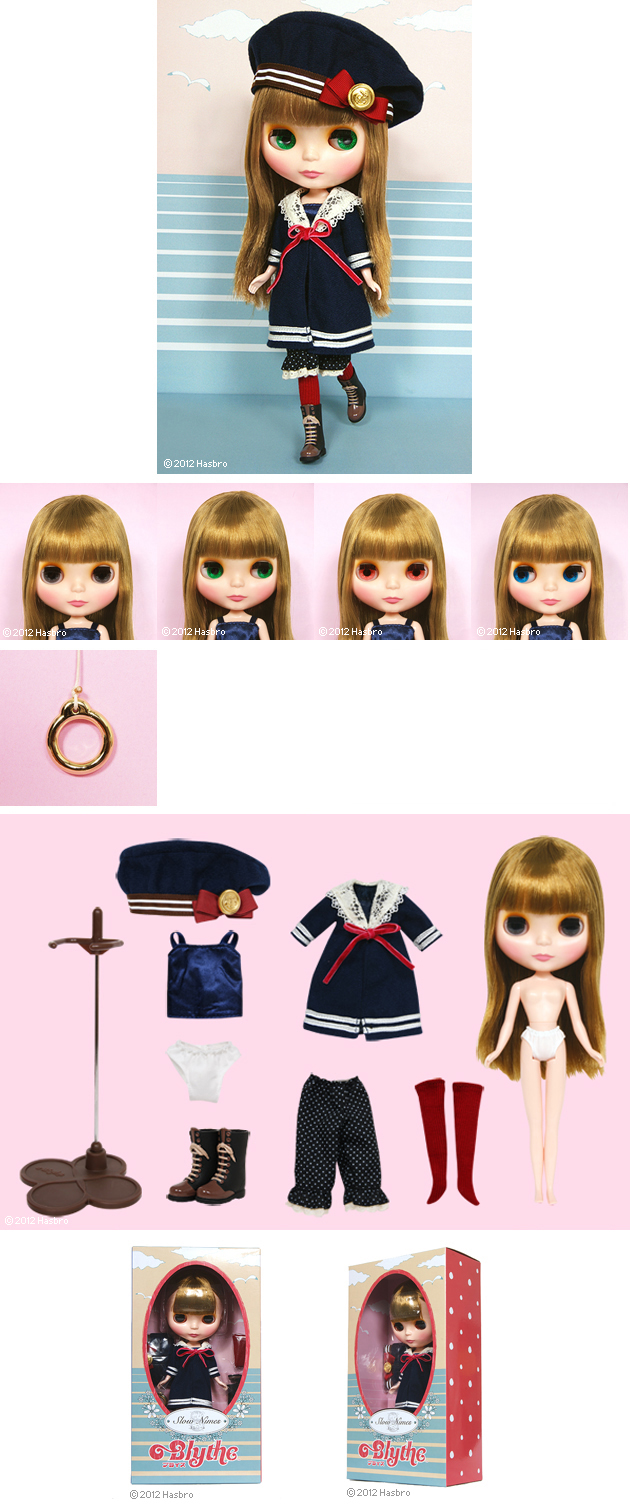 Face Type: Fairest
Skin: Fair
Makeup: Rose blush, brown eyeshadow, pink lips.
Eye Colors: Dark grey (special color front), green, pink, and blue.
Hair Color: Light Brown
Set Includes: Camisole, bloomer pants, coat, hat, boots, underwear, and stand.
Release Date: October 2, 2012
Price: 14,490 JPY
This item will be available from Junie Moon online shopping (Japan and International), Junie Moon in Daikanyama, Blythe shop by Junie Moon in  Kichijoji Chara Park, and Lele Junie Moon from October 2.