2012.10.18
Neo Blythe "University of Love" Final Design!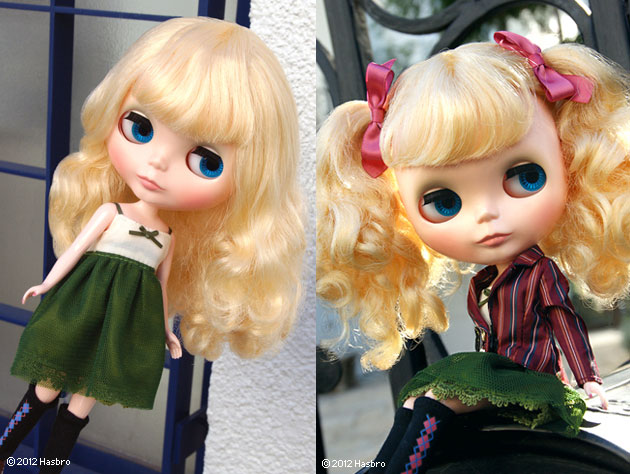 "University of Love" is a university that people from around the world come to learn to love each others.
She is wearing a camisole one-piece with cream cotton top and high waist skirt made of moss green satin with 2 layers tulle decorated.
Her tailored color blazer has 4 colors of dark red, dark blue, beige and orange stripes.
The blazer looks very fashionable with gold crown embroided at the left pocket.
Her socks are black high-socks and colors on front are different. The left side is blue, the right side is pink coordinated with cream and brown wingtip shoes.
She has bright blonde hair with bangs. Her hair is permed curly hair which give her luxurious image.
Pink ribbon hair elastics makes her look even more adorable!
 She has special green eye color which match her green eyeshadow and orange cheeks and lips.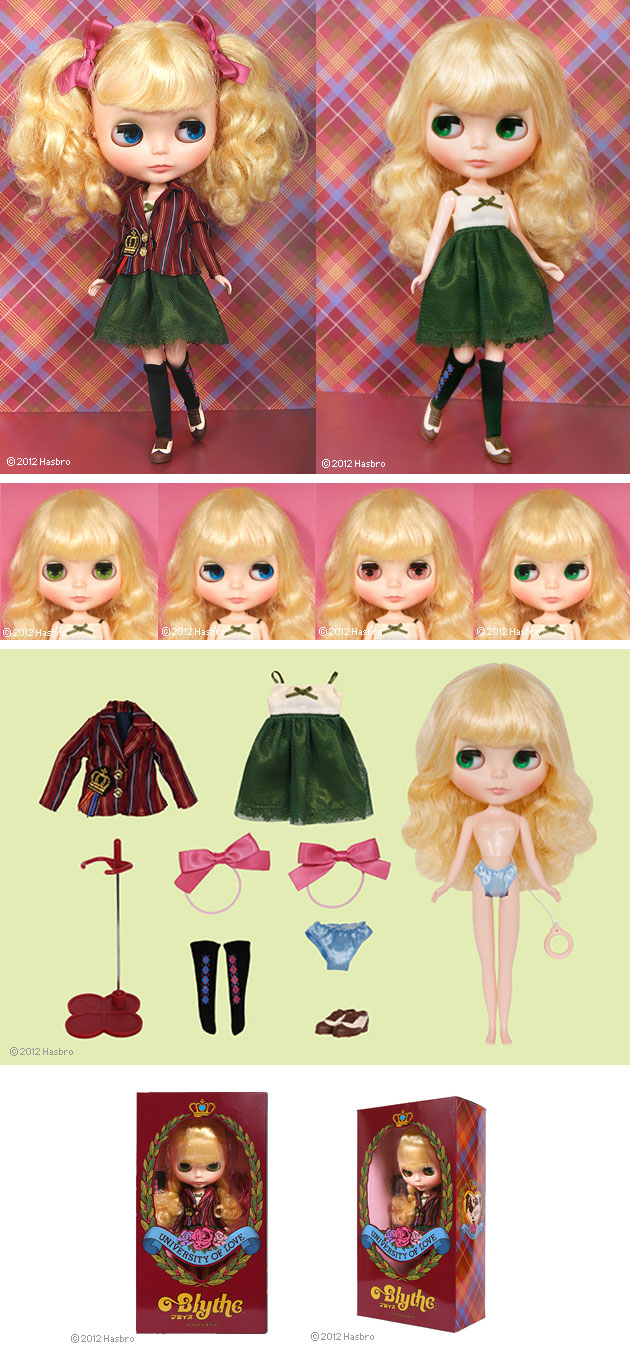 Face Type: Radiance
Skin Type: Fair (natural skin)
Make Up: Eyeshadow: Green, Lips: orangish pink, Cheeks: orangish pink
Eye Colors: Light green (center special color), Blue (right), Pink (center), green (left)
Hair Color: Blonde
Manicure: Orange
Set Detail:
One-piece, blazer, hair elastic (2 of them), socks, shoes, shorts, doll stand.
Release Date: 16 November 2012
Retail Price: 14,490 yen (tax included)
We start accepting reservation from 12:00 pm on 9 November through Online Shop Junie Moon
The doll will be available from 16 November 2012 at CWC official shop Daikanyama Junie Moon, Shinjuku Marui One Lele Junie Moon,
Kichijoji Chara Park Blythe Shop by Junie Moon and offical shops through out the country.