2012.11.08
Illustration for Neo Blythe "Lavender Hug"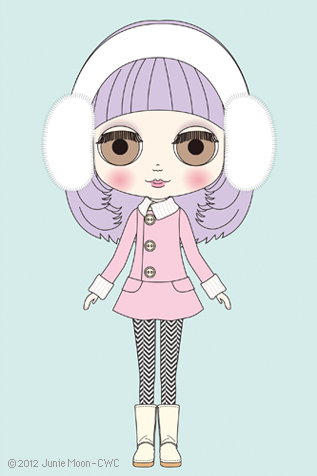 "I was born with this hair color! It's really true.
Since I was a child, it has made me so happy, I have wanted to hug everyone!"
Even in the winter, "Lavender Hug" will keep you warm with her cute style.
The clothes she wears greatly compliment her lavender hair color! Her pink dress, warm earmuffs and fluffy boots keep her bundled and cozy!
Her drop-waist dress has an adorable knitwear detail around the collar and cuffs.
Her herringbone tights add a graphic "pop!" to her outfit, and look great with her warm boots.
Her lavender hair, with loose curls and full bangs, is her charm point .
Her face type is "Fairest" and her skin is pale as snow.
For her makeup she wears soft brown eyeshadow, pink cheek and lip.
* Please note, the final product may differ from the design image.
Tentative Release Date: January 2013
Price: 14,490 JPY