2012.11.09
We are proud to announce the completion of the "Ayanami Rei meets Blythe -White Light-" CWC Exclusive!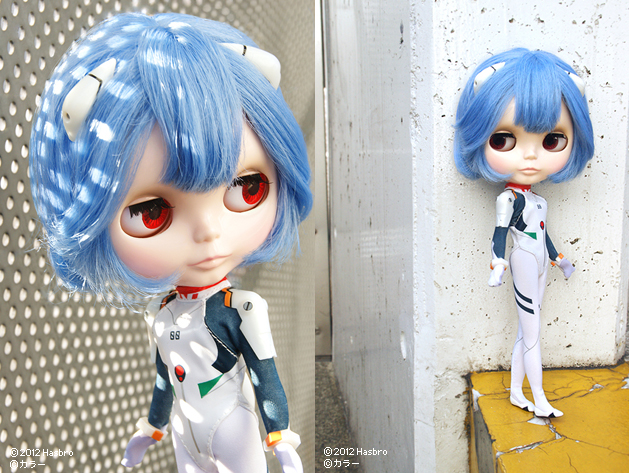 As the premiere of the the third installment of the Evangelion movie series draws near, we are proud to present to you a special Blythe that will live up to the expectations of fans of both the Blythe and Evangelion franchises! From the make-up to the eyes, costumes, headsets, charm, and more, we have scrutinized every detail to express Ayanami Rei's likeness in Blythe form.
The plug suit consists of a separation-type suit as well as a full body suit with a glossy finish, as well as a simple pair of shoes newly modeled for the "Ayanami Rei meets Blythe -White Light-" version of the EVA plug suit.
The full body suit has printed elements of navy, green, red, silver, and purple, and is tailored close to the Blythe body.
We have even recreated the shoulder protectors, wrist dials, and back armor.
We have also taken special care considering the interface head set.
We have recreated the distinct image of the interface headset by placing them on either side of the newly created head band.
A new light-blue saran has been used to recreate Ayanami Rei's unique shade of hair color.
Her bobbed hair has been cut with a light shag, with longer bangs, in order to simulate her haircut from the movies.
We have taken a natural, yet unique approach to the makeup on "Ayanami Rei meets Blythe -White Light-.
" A light-brown tone on her eyelids and eye shadow, special black eyelashes, and delicate pink lips.
Her lower lip is a shade lighter than her upper lip.
All of her eye chips have been consolidated to shades of red, all of them newly created for this occasion.
Please enjoy the nuanced range of emotions this "Ayanami Rei meets Blythe -White Light-" has to offer.
This doll's pull-string charm has been specially created as well.
The NERV logo is printed on one side of the charm and Blythe logo printed on the other. The stand is pearl white.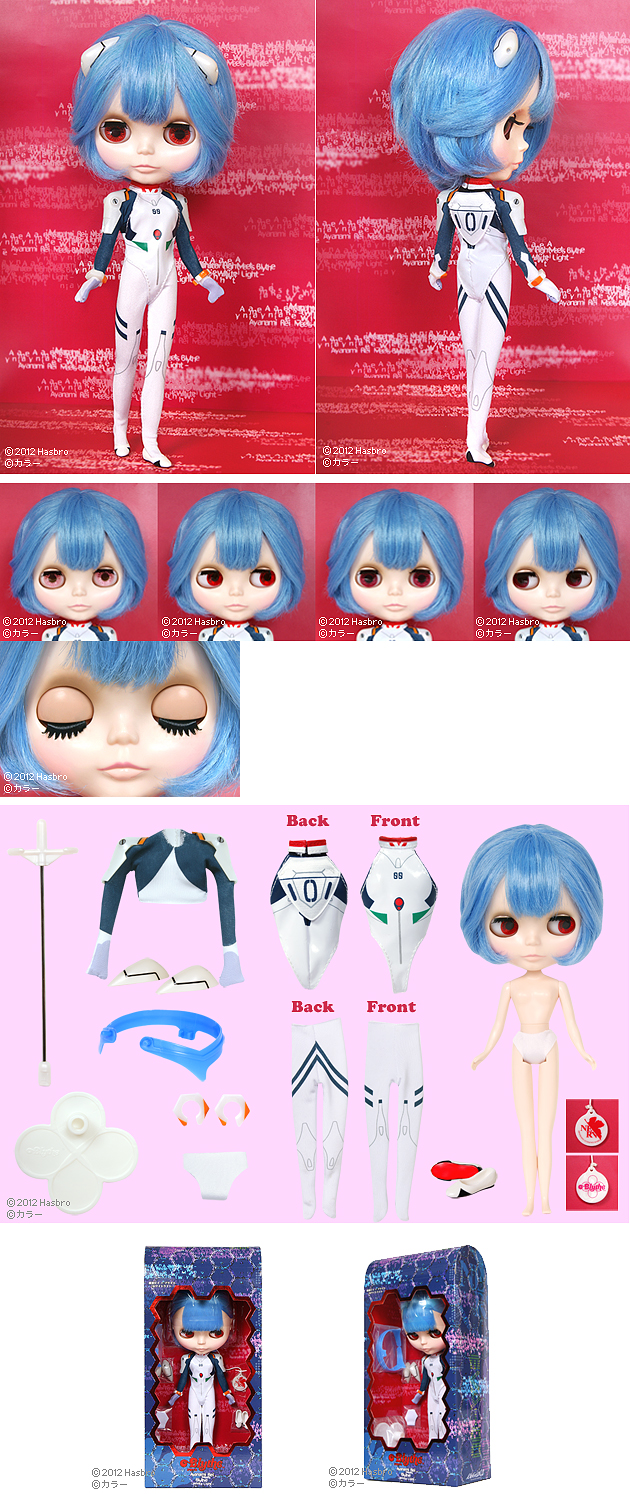 Face Type: Radiance
Skin Type: Snow
Make up: Eyeshadow: Light Brown / Lip: Upper lip is pink, Lower lip is light pink (special specs) / Cheek: Pink
Eyelid: Light Brown (special specs)
Eyelashes: Black (special specs)
Eyecolor: Light Pink (front facing), Neon Red (right), Orange-Pink (front facing), Dark Magenta (left) (all of them special specifications)
Hair Color: Blue (new color)
Dress Set Contents: Doll, upper body suit, lower body suit, full body suit, hair band, hair accessories, arm band, shoes, underwear, stand.
Release Date: December, 2012
Price: ¥24,990