2012.12.13
Design Illustration for Neo Blythe "Orange and Spice"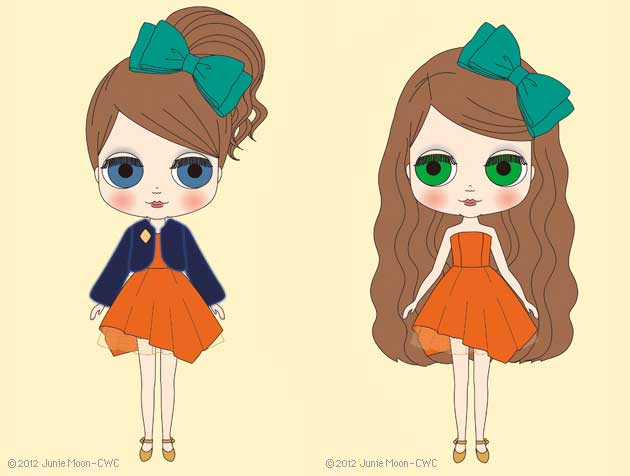 "It's a dance party tonight!
Merengue, cha-cha, salsa, rumba, samba, lambada.
I'm good at dancing to all of the latin styles.
I've been swing and swaying to the exciting music.
Let's dance!"

Fashionable and fun "Orange and Spice" Blythe has a bright orange dress like the shining sun!
Her strapless dress comes with a sweet bolero.
The asymmetrical line of her dress brings a sassy flare to her look.
From the edge of the hem a fun pop of gold tulle peeks through.

Her cute green hair bow sets off the bright orange dress.
Her look is complete with champagne, gold shoes.
She has a sophisticated style.

She has long, dark brown hair in a loose perm. It's parted to the right.
Her make up is dark blue eye shadow, orange blush, and pink lips.

She has a special dark blue eye color glancing toward the right.
Her face type is radiance.


* Please note the final product may differ from the design illustration.


Release Date: February 2013
Price: 14,490 JPY