2013.03.08
"Ambrosial Sprinkle ~ Love Exhibition Gothic & Lolita" at Shinjuku Marui One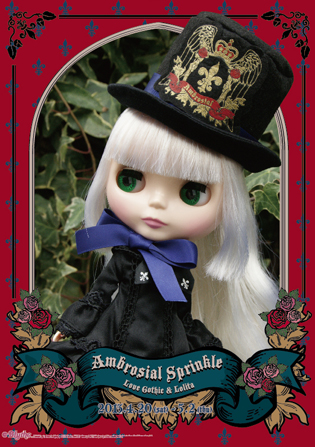 Fashionistas around the world recognize Japanese Gothic and Lolita fashion as an important cultural phenomenon from Japan.
Once considered a sub-culture, Gothic and Lolita styles is now mainstream fashion, influencing fashion designers from around the world.

There will be a special exhibition of Blythe dolls styled in elegant gothic fashion to sweet lolita in the 1st floor of Marui One from April 20th.
Ushering in the event is Neo Blythe "Ambrosial" who holds the unique charm of an elegant gothic girl.

At the venue, we will be selling Neo Blythe "Ambrosial" along with some custom Blythe dolls and we will take preorder for the May release Neo Blythe "Savory Sprinkle"!

In addition to this, we have made a special collaboration series of bags with "HbG" and Blythe! There will be a special preorder for this exclusive line of hand bags.
"HbG" is a very popular bag and wallet brand in Japan known for their fun design and diverse collaborations.

We hope you can join us to play and enjoy Blyteh!

Participating Artists:
椛×Rico*, Hanon、chic☆rin, Ange, *Soleil*, kinokotti, Lhiannan:Shee × Mitsubachi@BabyBee, Momolita x haco, Jodie♥Jevries

"Ambrosial Sprinkle~ Love Gothic & Lolita~"
Duration: April 20 - May 2
Venue: Shinkuku Marui One 1F
Address: 3-1-2 Shinjuku, Shinjuku-ku, Tokyo

Hours:
Weekdays 11:00 to 21:00
Sundays and Holidays 11:00 to 20:30