2013.02.28
Design Illustration for cheeky Neo Blythe "Monique Magnifique"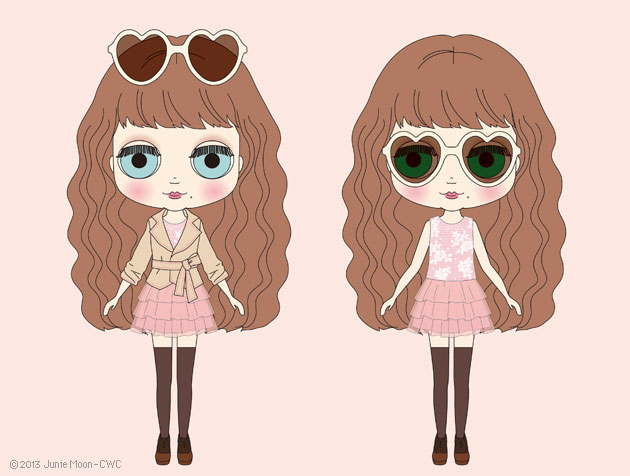 Beautiful and brash, Monique has confidence and strength. 
But you know, with strength and beauty she also has the same delicate kindness in her heart.

Monique's unique way of life is very inspiring.
She's admired by everyone for being just who she is! She's truly "magnifique"!
She expresses her individuality in a fun and fashionable way. Her organza ruffle dress is sweet and colorful.
Coordinated with her sharp leather jacket she's the perfect mixture of sassy and sweet.
The rolled sleeves on her jacked show her smart fashion sense. 
Her heart-shaped glasses bring charm and cuteness to her sophisticated look.
These glasses are a new design and so are her cute booties!
She has reddish, brown hair with bangs and a full, fluffy perm. 
She's truly glamourous.

She has special light blue eyes with a forward facing gaze. 
She has brown eyeshadow and dark pink lips. 
She has fair skin with Radiance face type.
Her stand is pink.

The illustration is a design of concept and does not reflect the final product.

Release Date: April 2013
Price: 14,490 JPY