2013.04.17
Neo Blythe Sadie Sprinkle is the Happy & Sweet Blythe!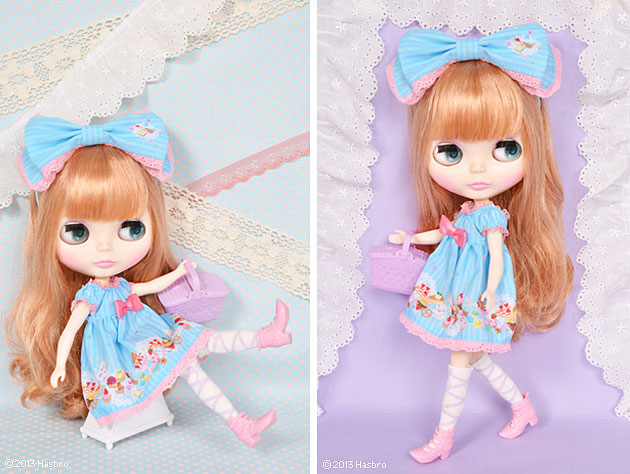 Sadie Sprinkles loves to bake sweets and loves to decorate with cute cupcakes and notions. Her adorable fashion is of course coordinated with her sweets theme!

Her cute one piece dress has blue and light blue stripes and a cute trim of printed sweets around the hem!
The hem is decorated with delicate pink lace and a cute satin ribbon on the chest.
Her special hair band is a big bow with pretty pink lace trim.
The ribbon can be removed from the white headband to make a more simple coordination.

She wears high socks with ribbon lacing print and cute pink shoes.
She comes with a purple basket to carry her sweet treats to her friends.

She has long hair with a light wave perm and simple bangs.
Her hair is a cute ash pink color.
She has a special light green/blue eye color set to the right, with special light blue pupils.
She has a special selection of pastel makeup to fit her pastel palette.

She comes with a blue stand.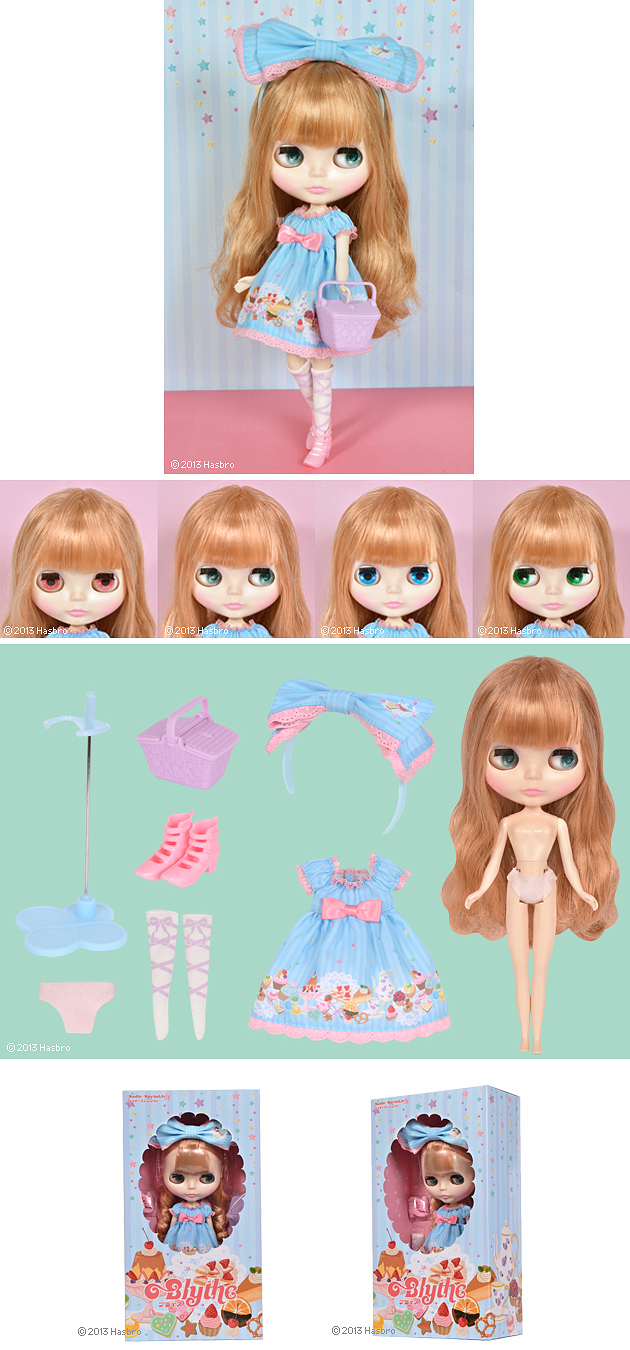 Face Type: Radience
Skin Type: Snow
Make Up: Light purple eyeshadow, pink lips, light pink blush
Eye Colors: Stock blue (front), Special Light Bluish Green with blue pupils to the Right, Stock Pink (front), Stock Green (left)
Hair Color: Ash Pink
Set Includes: Dress, Headband with detachable ribbon, knee-high socks, shoes, basket, underpants, and stand.

Release Date: May 24, 2013
Price: 14,490 JPY

* Junie Moon International Online shopping will take preorders for this doll from May 17th! Shipping date will be May 24th.