2013.04.26
CWC Exclusive Middie Blythe "Iris Linea" will take you to prom!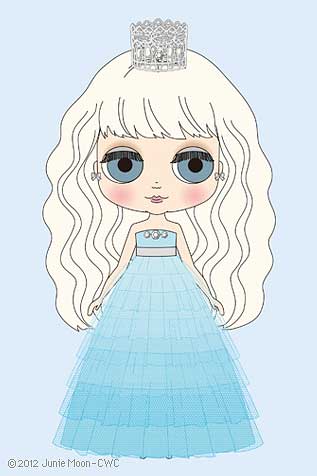 This morning I ate chocolate rice.
You may not know that's a real thing, but it is now!
Today was a very special day.
Tonight we are having our first prom party!
At prom, you can wear a tiara and shine like a lovely star.

Who will escort me to prom?
My prince charming of course. ♥


Iris Linea chose a lovely blue ombre that looks like a perfectly clear sky.
She has twinkling rhinestones on the bodice of her dress.
She wears a simple silver tiara and blue pumps.

She has long platinum blonde hair with a loose perm and bangs.
She has brown eyeshadow, pink cheeks and cute pink lips.
She has special blue eyes and eyelashes.
She has fair skin.

* Please note design image may differ from the final product.

Release Date: June 2013
Price: 12,390 JPY
Limited edition of 2,000 dolls manufactured