2013.06.20
Pop marine colors are here with Neo Blythe "Hi!-Ho! Marine"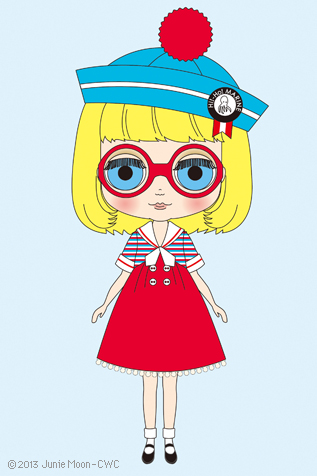 "Let's row our boat!
Our toy ship floats around the park fountain like it's out to sea.
Let's have a race around and around the fountain. Who will win the race today?
Will you? Will I? It's a surprise!"

The Summer fashion of marine inspiration is here!
"Hi!- Ho! Marine" has a fun and individual style that will be sure to make you smile.
Her round glasses and sailor's cap are so cheerful.
Her one piece dress has a crisp sailor color, and it's perfectly playful.
She's pop in primary colors.
She wears black Mary Jane shoes and white socks.

She has a lemon yellow, short bob with loose body curl in the bangs.
She has a special light blue eye color, facing forwards.
She wears pink lipstick and blush, with brown eyeshadow.
It gives her a refreshing and healthy look.
She has natural skin in a new Radiance + face mould!

* Please note design image may differ from the final product.

Release Date: August 2013
Price: 14,490 JPY

* The Radiance + mould is taken from the original 2006 Radiance face mould.